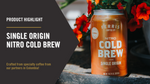 The expansion of our Nitro product line comes naturally with our brand new release of the canned Single Origin Cold Brew. Packed with 196 mg of caffeine and bursting with bold, unique tasting notes, this nitrogen-charged coffee is an essential summer-sipper. It's been an exciting couple of years since we re-launched our Nitro Cold Brew into ready-to-drink widget cans. The original line-up consisted of two teas and one black coffee. "Our Original Nitro Cold Brew has the classic caramel and chocolate notes that are loved in cold brew coffee, so we wanted to offer something else that had a different taste...
---
Tags:

alcohol, at home, bartender, booze, boozey, boozy, cafe, christmas, cocktails, coffee, coffee blend, coffee roaster, coffee shop, cold brew, cooking, easy, ferris, Ferris Coffee, holiday, holiday party, home, homemade, how to, ice, iced coffee, make your own, maple, milk, mixology, nitro, nitro cold brew, recipe, shake, tutorial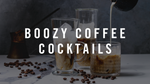 Elevate your next party with these easy, coffee-infused cocktail recipes! All of these recipes feature our specialty coffees from around the world. Choosing a light, medium, or dark roast will change flavor profiles, but trust us when we say you wont be disappointed with any of these cocktails. Get ready to impress friends and family as the new resident mixologist and coffee connoisseur! And for those looking for virgin cocktails, we got you covered with some tasty solutions! There's now a number of zero-proof choices available at stores and we've found these substitutes to be equally delicious: Bourbon or Whiskey 1....
---
Tags:

cafe, cocktails, coffee, coffee blend, coffee shop, cold brew, dalgona, daybreak, easy, education, ferris, Ferris Coffee, home, homemade, how to, ice cream, iced coffee, instant, instant coffee, make your own, michigan, michigan made, mixology, nitro, recipe, tutorial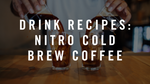 More than just a drink, Nitro Cold Brew Black Coffee can be used as a cocktail mixer, atop your favorite ice cream desserts, and more! We may be biased, but check out our favorite recipes to add a kick of caffeine to!