Tags:

apricots, at home, At Home Coffee, berries, blueberries, cashews, charcuterie, cherries, chocolate, coffee, cold brew, cooking, covid-19, cranberries, dark chocolate, dates, desk, dried fruit, espresso beans, ferris, Ferris Coffee, Ferris Nuts, fiber, ginger, healthy, healthy snacks, home, homemade, how to, kid friendly, make your own, michigan made, nut butter, nuts, office, peanut butter, peanuts, pecans, potassium, snacks, trail mix, vitamin c, wfh, work from home, workplace, yogurt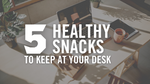 It's no secret that we all love to snack, especially after habits changed in a post-pandemic world. In fact, according to recent studies, more than 76 million U.S. snackers have found comfort in their favorite snacks during the pandemic. Whether you're working from home or in the office, having snacks nearby is essential. But what are the consequences? And are there better options to be had? Many things changed after the global shock of the pandemic. Most people had to adjust (and re-adjust) their approach to food. Whether you were ordering groceries online, found yourself working from home, or looking to...
---
Tags:

at home, At Home Coffee, bake, BAKING, coffee, coffee blend, cold brew, cookie, cookie bar, cooking, cookout, dark chocol, dark chocolate, easy, espresso, espresso beans, ferris, Ferris Coffee, Ferris Nuts, grand rapids, highlight, home, homemade, how to, ice, ice cream, make your own, michigan, michigan made, nitro cold brew, partner, pie, pie bar, recipe, snack, snacks, tutorial
Warm weather in summer is hard to beat and those of us who love to bake find it hard to resist the temptation of creating sweets in the kitchen. Lucky for us, this Cold Brew Pie Bar nixes the oven all-together and results in a mouthwatering dessert that beats the heat!  Nitro Cold Brew can be quite refreshing as you pop open a can and hear the hissss of nitrogen being burst into that sweet, sweet caffeinated drink. The boost of concentrated coffee in a Nitro can will kickstart you into creating this delicious pie bar, curated by Ally's Gluten...