Tags:

at home, At Home Coffee, bake, BAKING, coffee, coffee blend, cold brew, cookie, cookie bar, cooking, cookout, dark chocol, dark chocolate, easy, espresso, espresso beans, ferris, Ferris Coffee, Ferris Nuts, grand rapids, highlight, home, homemade, how to, ice, ice cream, make your own, michigan, michigan made, nitro cold brew, partner, pie, pie bar, recipe, snack, snacks, tutorial
Warm weather in summer is hard to beat and those of us who love to bake find it hard to resist the temptation of creating sweets in the kitchen. Lucky for us, this Cold Brew Pie Bar nixes the oven all-together and results in a mouthwatering dessert that beats the heat!  Nitro Cold Brew can be quite refreshing as you pop open a can and hear the hissss of nitrogen being burst into that sweet, sweet caffeinated drink. The boost of concentrated coffee in a Nitro can will kickstart you into creating this delicious pie bar, curated by Ally's Gluten...
---
Tags:

alcohol, at home, bartender, booze, boozey, boozy, cafe, christmas, cocktails, coffee, coffee blend, coffee roaster, coffee shop, cold brew, cooking, easy, ferris, Ferris Coffee, holiday, holiday party, home, homemade, how to, ice, iced coffee, make your own, maple, milk, mixology, nitro, nitro cold brew, recipe, shake, tutorial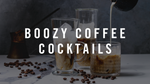 Elevate your next party with these easy, coffee-infused cocktail recipes! All of these recipes feature our specialty coffees from around the world. Choosing a light, medium, or dark roast will change flavor profiles, but trust us when we say you wont be disappointed with any of these cocktails. Get ready to impress friends and family as the new resident mixologist and coffee connoisseur! And for those looking for virgin cocktails, we got you covered with some tasty solutions! There's now a number of zero-proof choices available at stores and we've found these substitutes to be equally delicious: Bourbon or Whiskey 1....
---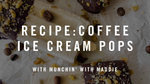 Cooling off with a popsicle in the summer just feels right! But these aren't your average store-bought, freezer-burnt popsicles; these are homemade using some amazing products from Ferris Coffee. Not to mention they are completely vegan and gluten free.