Tags:

cafe, cocktails, coffee, coffee blend, coffee shop, cold brew, dalgona, daybreak, easy, education, ferris, Ferris Coffee, home, homemade, how to, ice cream, iced coffee, instant, instant coffee, make your own, michigan, michigan made, mixology, nitro, recipe, tutorial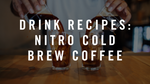 More than just a drink, Nitro Cold Brew Black Coffee can be used as a cocktail mixer, atop your favorite ice cream desserts, and more! We may be biased, but check out our favorite recipes to add a kick of caffeine to!
---
Tags:

coffee, cold brew, Ferris Coffee, grand rapids, homemade, how to, iced coffee, local, make your own, recipe, shopping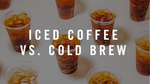 The weather is warming up and the sun is shining, which means it is time to embrace some cold coffee! Both refreshing in their own ways, iced and cold brew coffees are a perfect drink to sip on in these hot, summer months. You will get different results from each, so check out guides below and try them out! 
---
Tags:

almonds, cashews, easy, home, homemade, how to, make your own, nut butter, peanut butter, pecans, recipe, walnuts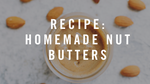 Nut butter has grown in popularity over the past few years. They're healthy, delicious, and… EASY TO MAKE!? Yeah, that's right. We said it. Making your own nut butter at home is really simple! Store-bought butter can be convenient, sure, but we're reaching for our homemade versions for a few reasons: You get to stay home! Cost-effective No added sugar, salt, or chemicals Use what you already have Create your own fun blends Choose how much/how little you want to make So fire up your food processor (or blender) and try out some of our favorite nut butter recipes! The...