Tags:

almonds, cashews, easy, home, homemade, how to, make your own, nut butter, peanut butter, pecans, recipe, walnuts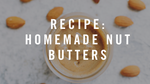 Nut butter has grown in popularity over the past few years. They're healthy, delicious, and… EASY TO MAKE!? Yeah, that's right. We said it. Making your own nut butter at home is really simple! Store-bought butter can be convenient, sure, but we're reaching for our homemade versions for a few reasons: You get to stay home! Cost-effective No added sugar, salt, or chemicals Use what you already have Create your own fun blends Choose how much/how little you want to make So fire up your food processor (or blender) and try out some of our favorite nut butter recipes! The...
---
Over recent years, the trend of alternative milks has risen. People are searching for new ways to enjoy the creamy, delicious ingredient due to dietary restrictions or environmental reasons. New research from Mintel reveals that non-dairy milk sales have seen steady growth over the past five years, growing an impressive 61 percent since 2012.One company dedicated to making it through these changing tides is Elmhurst 1925. A dairy company founded in 1925 by the Schwartz brothers, it was New York City's last milk manufacturing plant until it's closure in 2016. The company decided to re-brand as Elmhurst Milked and started to...
---
Tags:

coffee, coffee roaster, Ferris Coffee, grand rapids, how to, michigan, origin, recipe, retail, roasting, sourcing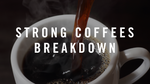 One of the most frequently asked questions that we get at Ferris is "What is the strongest coffee you have?" There isn't really a simple answer to this question, therefore let me give you an explanation of some stuff first… Written by Sam Mirto, VP of Coffee Operations When we talk about strength in our coffee, what we're actually referring to is the Total Dissolved Solids that have been incorporated into the solution (coffee) as a result of brewing. This gets complicated so I won't go too in depth, but suffice to say that an ideal TDS percentage is in the...