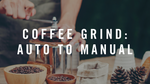 There's really nothing beautiful about a Mr. Coffee brewer, or a Keurig, or really any kind of coffee brewer that you might traditionally find in someone's home. These plastic machines tend to sit on a person's counter, and while they might come in unique colors or fancy prints, they never actually get to be part of the conversation. Nobody cares that your Mr. Coffee is red - what really matters is how the coffee tastes. But what if you didn't have to compromise? What if you could brew great tasting coffee, and have a beautiful coffee brewer sitting on your...
---
Tags:

coffee, coffee roaster, farmers, Ferris Coffee, grand rapids, instant coffee, local, michigan, origin, partnership, retail, shopping, sourcing, workplace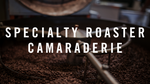 Written by Sam Mirto, Director of Coffee   The specialty coffee industry continues to gain market share against the macro roasters of the world. Whether this is a result of a shift in ethos among the masses and representative of the food and beverage industry as a whole, or a movement that is specific to the coffee industry is up for debate, but no one can deny that people are more willing to pay for quality and sustainability these days. The validity of this movement is even evidenced by "macro" producers putting out ad campaigns that claim prowess for their...