Tags:

At Home Coffee, cafe, co-op, coffee, coffee farm, coffee roaster, coffee shop, collaboration, colombia, cup, cupping, customer, farm, farmer, farmers, Ferris Coffee, marketing, nariño, partner, q, q-grader, roast, roaster, roasting, single origin, sourcing, south america, travel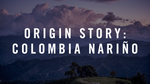 The Pickers Project, Proyecto Recoloectores, has once again produced a stunning micro lot of coffee that has left our tastebuds abundantly impressed. At Ferris, we've continued to try and find exciting single origin coffees to roast for you. Always on the look-out for coffees with a story, Colombia Nariño had us captivated. With an emphasis on elevating every person within the supply chain, Azahar Coffee's Picker Project Program directly aligns with our passion to help with the sustainability of the industry.  Written and provided by Azahar Coffee The coffee industry's precarious business Working on a farm is not easy. Farmworkers from all over the...
---
We're excited to be bringing in some unique single origin coffees that are honey processed. This type of coffee processes is all the rage in South America. Very unique and possibly one unfamiliar to those not in the coffee industry. It doesn't actually involved any honey or bees, so what the heck is it?  Honey processing is one of the many ways mills process their coffee cherries. This wasn't always the way in Costa Rica. After an earthquake in 2008, there was a water shortage within the country. Farmers were left dealing with the lack of water and had to come up...