Tags:

cinnamon, coffee, coffee roaster, costa rica, cupping, education, fall, farm, farmer, farmers, ferris, Ferris Coffee, harvest blend, la lia, origin, partner, partnership, q-grader, roaster, roasting, single origin, sourcing, travel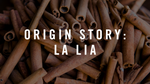 Expect nothing less than mind-blowing with La Lia. We aren't overselling this truly unique coffee when we say that. This cutting-edge style of coffee processing with whole cinnamon sticks has created one of the most delicious and distinctive coffees we've ever tried!
---
Tags:

coffee, coffee roaster, cup, cupping, farmers, Ferris Coffee, guatemala, how to, instant coffee, origin, partnership, q-grader, roasting, san miguel, san sebastioan, sourcing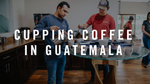 How We Choose Coffee Earlier this year, a team from Ferris was fortunate to travel down to Guatemala to visit our partners at the San Miguel Mill located just outside of Antigua. While there, our certified Q-grader and VP of Coffee Operations, Sam Mirto, along with Education Assistant, Hannah McClure, cupped over 80 different coffees the farm had to offer. Check out the behind the scenes look at what it takes to cup that many coffees and how we choose what we decide to bring back to you!  We have been doing business with our partners at the San Miguel...