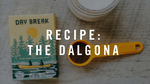 Well, we can thank TikTok for one thing and that's for making the Dalgona drink a viral hit. It luxurious look seems unreal and the fact that anyone has the ability to make this fabulous drink makes it even more mystical!  The Dalgona originated in South Korea involves three simple ingredients: instant coffee, granulated sugar, and water. Yep, that's it! You don't even need a coffee machine to enjoy this burst of caffeine and while cafés are closed, it can make you feel like an unstoppable barista in the comforts of your own home! A stand mixer on high sure...
---
Tags:

almonds, cashews, easy, home, homemade, how to, make your own, nut butter, peanut butter, pecans, recipe, walnuts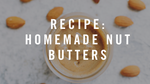 Nut butter has grown in popularity over the past few years. They're healthy, delicious, and… EASY TO MAKE!? Yeah, that's right. We said it. Making your own nut butter at home is really simple! Store-bought butter can be convenient, sure, but we're reaching for our homemade versions for a few reasons: You get to stay home! Cost-effective No added sugar, salt, or chemicals Use what you already have Create your own fun blends Choose how much/how little you want to make So fire up your food processor (or blender) and try out some of our favorite nut butter recipes! The...