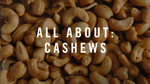 A Cashew Story
History
The cashew tree, native to the tropics of Brazil, is classified as a tropical evergreen tree. As a member of the Anacardiaceae family, the cashew's closest relatives include the mango, poison ivy and sumac. The word cashew is derived from the Tupi word "acajou" which means "nut that produces itself". This is most likely in reference to the fact that the cashew shaped fruit dangles below the fleshy, squash-shaped stem of the fruit (called the cashew apple). We think it looks like something Dr. Seuss would have illustrated! In the late 1500s, Portuguese colonists brought the cashew tree from Brazil to West Africa and then to India in the 16th century. When they originally brought this tree to Mozambique, it wasn't for the fruit cultivation at all, it was actually planted along the coast to prevent erosion.
Origin and Processes
Other than humans, only the bearded capuchins monkeys of Brazil have figured out how to process cashew nuts. Monkeys in Africa will eat the cashew apple, but not the nut. Both humans and capuchins have realized that a measure of processing needs to occur before eating the nut. There is an irritant that naturally occurs between the shells that causes painful blisters in your mouth otherwise. Capuchins prepare their cashew snacks with stone tools and friction, rubbing the caustic liquid off. Though the human technique is quite a bit more complex, archeologists speculate that humans may have learned how to eat cashews from this creative little monkey 7000 years ago.
Today, Ferris sources cashews from specific processors in Brazil and India. While sometimes the cashews are grown in the same countries that they are processed, they are most often grown in Indonesia or west African countries such as Ghana or the Ivory Coast. Growers then sell the un-shelled kernels to places that already have the processing infrastructure in place.
 
The process itself is intricate. It includes heating, cutting, re-heating, shelling, extracting the cashew nut shell liquid (irritant found in-between the shell walls), skin removal, grading, slight re-humidifying (to prevent the fragile nuts from breaking) and vacuum packaging. The grading process is determined by color and size of the kernel. Color is determined by damage and discoloration in processing, and size is largely determined by nature (and if/how the cashew has broken in the process).

Taste and Common Uses
Our most popular cashews are jumbo and colossal, so the most frequently asked question by our customers is, "What's the difference?".
 
Our answer is that the most obvious difference is the size. Cashews are sized by the number that approximately makes up a pound. Meaning that the smaller the number, the bigger the cashews. The most common cashew you might find in the grocery store is a 320 (again this means that approximately 320 cashews of this size make up a pound). These are smaller than our jumbo and colossal cashews.
Jumbo cashews (240 cashews per pound) tend to be hearty, nutty, crunchy and delicious. They are good for a gift and also a great choice for high-end mixes.
 
Colossal cashews (180 cashews per pound) are the largest cashew! They taste more buttery, have a big crunch, and are hearty. They are a very impressive gift option, as the size offers a beautiful presentation.
 
Because of their natural soft and creamy texture, cashews are also being used more frequently to make plant-based dairy alternatives, like cream or milk. They are also used as a salad topping, and in granola or trail bars.
 
Nutritional Benefits
Cashews are abundant in essential minerals and are also a good source of monounsaturated fats and protein! YUM! Just 1 oz. of cashews provides us with: