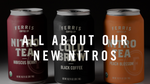 Our Cold Brew Cans Got a Little Upgrade!
It was time for re-design. As we continue to grow Ferris Coffee, we wanted to elevate the look of our Cold Brew Black Coffee. It was essential, too, since cold brew trends have been on the rise for a number of years now. Walk into any grocery or convenient store and the choices are expanding as you reach for some caffeine.
Cold brew coffee is exactly what its name describes. It's coffee that's brewed from cold water, often through a special filter device. The process can happen quickly, or take hours, depending on how it's concocted, and results in a concentrate to which water is added to make an iced coffee. Cold brew is smoother than regular iced coffee made from conventional brewed coffee. It's also a stronger coffee taste, and there can be more caffeine in cold brew versus brewed coffee 
Over the past several years, the cold brew coffee wave has excited investors, intrigued consumers, and breathed new life into a once peripheral beverage category. In 2017, sales of cold brew coffee jumped to $38.1 million, a 370% jump from the $8.1 million in sales the category saw in 2015, according to Statista. Beyond just cold brew, people are now turning and interested in the nitro effect commonly found in breweries. This enhancement to the coffee gives a creamy, frothiness to the beverage- getting us more geeked on the pleasures of coffee. 
Brewed with coffee sourced directly from our partners in Central and South America, Ferris Nitro Cold Brew is infused with nitrogen creating a smooth, rich creamy finish. Crafted simply from just filtered water and coffee, it's so delicious no added sweeteners, creamers, or preservatives are necessary. One can contains 196 MG, which is equal to two cups of coffee. So not only can you chug it a lot faster than hot coffee, your veins will be pulsing with caffeine before you finish your last drop. The struggle is real:
The Widget Wizardry
Our Cold Brew products are canned with a NEW nitrogen widget. We were excited to bring a new feature to the cold brew cans. "This is a feature that is extremely rare among other Cold Brew products on the market, and is another differentiating factor for our product compared to others," Sam Mirto, Director of Coffee at Ferris explains. Super-charged and ready for action, the widget takes cold brew from ordinary to extraordinary. Simply pop the top and a burst of nitrogen is released, resulting in a smooth beverage with a unique, creamy frothiness. "The widget essentially simulates what happens when the beer is pour from a nitro tap.  It releases a burst of nitrogen when the can is opened, which breaks the dissolved nitrogen out of suspension to create the cascade effect that we get when the product is poured from a tap," Mirto said.
We Just Spilled the Tea...
Nitro infused. Organically certified. And packed with flavor! Super-charged with the nitro widget, take your tea from ordinary to extraordinary! We bounced around a few different ideas on which flavor path to choose when it came to our teas. Ultimate we landed on Hibiscus Berry and Peach Blossom. They, too, are also canned with the nitro widget to give exciting burst of nitrogen when opened and a smooth mouthfeel. 
Brewed with tea sourced directly from our partner, Rishi Tea Botanicals, Ferris Nitro Tea is infused with nitrogen creating a smooth, rich creamy finish. Crafted simply from organic certified tea, it's so delicious with no added sweeteners, creamers, or preservatives. 
No sugars. No sweeteners. No artificial colors. Just tea.