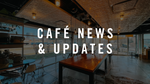 Ferris Coffee & Nut Co. has made the decision to close two Grand Rapids café locations. Downtown is now closed while West Side will remain open through May 22nd. While these cafés close, Ferris turns their attention to their main location on Seward Ave. with plans to expand the retail and café space at their headquarters.
While this decision wasn't one we made lightly or easily, it's the one we've arrived at. Since our move to our main location on Seward Ave. in 2018, our cafés throughout the city have remained as landmarks for our customers to visit and enjoy. These spaces truly are the most customer-facing our company has to offer. It's where we get to interact on a personal level, build relationships, and offer our products directly to consumers. The ultimate effect COVID had on the economy and our business cannot be understated. With not one but two shutdowns that damaged the retail economy, we simply weren't immune to the impact.
"I'm saddened because we love our relationship within the communities we serve and we love the consumer business," John Van Tongeren, President of Ferris Coffee & Nut Co. explained.

 
West Side Café
The West Side Café has been our flagship location for us since we rebranded and introduced it in 2014. It once housed our entire operation, from administrative to production! The large floor to ceiling windows allowed the rising sun to light up the café for those early morning risers and abundant seating gave space to students, business professionals, and families alike. When we renovated the patio section, it provided seating to enjoy the warmer weather and for our furry friends to visit. In 2018, we sold the building to Grand Valley State University (GVSU) for their engineering building. Working with GVSU, we remained in the space to continue providing our delicious coffee and products to the neighborhood. This location gave us the opportunity to participate in many Grand Rapids events such as the GR Marathon, LaughFest, Art Prize, and more. "My strongest memories for the West Side shop are associated with the Grand Rapids Marathon, as it's literally right at the start/finish line," Evan Groendyk, Ferris Production Manager reminisced. "I've personally competed in the event then enjoyed a cup afterward."
"I started as a barista at Ferris and I've always loved the hustle of a busy café," Jessica Coles, Ferris Retail Manager reminisced. "Busy Saturdays and working the GR Marathon at West Side will always stick out in my head." 
Looking back, we acknowledge that countless memories were built in this space. First dates, group meet-ups, musical entertainment, latte art throw-downs. "One of my favorites was when we had a packed 32-person bracket with baristas from all over Michigan and Chicago, several local sponsorships, and we were able to raise money to give back to a coffee farm charity," Coles said. Our intention with moving our focus to our Seward location is to continue these moments and provide an upgraded space all our own. "I see this as a chance to get creative with how we use the space and make it a new community destination for our customers," beamed Coles.
Downtown
In 2016, we were honored to have our second Grand Rapids location in the historical Michigan Trust Building. Once touting the title "tallest building in Michigan," this downtown landmark has been a cornerstone of classic design and rich history. We had preserved the historical nature of the building while transforming it into a relevant and functional space. Featuring maple and dark walnut wood tones, quartz countertops and modern light fixtures, the space provides a convenient and cozy workspace within the city. It soon became a customer favorite for it's sleek design, minimalist vibes, and local art on the walls.
Happily serving the city's busy customers, this location relied heavily on workplaces operating under normal circumstances.
"The location of the Downtown shop, while on paper made sense, was challenging from a logistics standpoint due to parking and traffic," Groendyk explained. "When everybody started to work from home and not go to the office in the central business district anymore, it devastated our sales."
Despite offering local craft beer, curated wine selections, and unique snacking opportunities, the café suffered under shutdowns. The business district has immense potential to grow for the city and provide unique spots for locals and tourists alike. We'll always be grateful that we were a part of this area's growth and are excited to see the city's potential grow in the coming years. 
Looking Forward
Nearly one-hundred years old, we have seen our fair share of good and bad trends, technology advancements, and now a global pandemic that has shifted the economy and consumer habits. We consider ourselves fortunate to be pursuing this plan, acknowledging that not every business has this option. We're looking forward to the opportunity of change; to be open minded is one of our core values.
We've begun the initial steps conceptualize ideas and designs for the addition to our main headquarters. What we know is that this is all an opportunity to focus our efforts, continue investing on the West side of Grand Rapids, and to create a new and exciting place for both our staff and customers alike to enjoy. 
Our Seward Café, Holland Café, and Lansing Café remain open to continue serving you the specialty coffee and products you love.
"For many people, our cafes have always been the face of Ferris," Coles remarked. "Our welcoming and knowledgable staff have been essential to creating a positive brand image that prioritizes customer satisfaction and a high quality product. This is certainly true throughout our entire company, because it is part of our core values, but it's important that our customers can experience this in a physical brick and mortar location. I think that once Covid slows down enough, people are going to be craving human interaction and it will be extremely lucrative for our business to maintain a destination in Grand Rapids."
To the regulars and their drinks we've memorizes, the students we've supported through study sessions and finals, the artists we provided a gallery space to, the tourists who stumbled upon our spaces, and every other person we've met along the way- we cheers to you! We're beyond grateful for the community support and can't wait to turn this renovation project into a destination you'll be clamoring to enjoy!