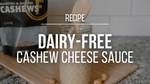 Grab your blender and let's get started on this delicious homemade Cashew-Based Cheese Sauce! This easy recipe is sure to become a new favorite in your kitchen!
This dairy-free recipe is perfect for anyone looking to enjoy the creamy and indulgent flavor of cheese. The cashews provide a rich, nutty flavor and a smooth, creamy texture that mimics traditional cheese sauce. Plus, it's incredibly easy to make and Whole30 compliant!
This versatile sauce pairs perfectly with a variety of dishes, from homemade enchiladas to roasted vegetables. It's also Whole30 compliant, making it a great option for those following a pant based diet.