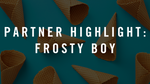 In Grand Rapids, the local ice cream parlor is a cherished past time. Likely a corner shop that, for decades, has been serving neighborhood kids (and adults) their favorite indulgent treat: ice cream. Over the years some shops renovate, some hold onto the nostalgia, and most expand their menus; accommodating dietary restrictions, serving locally made goods, and looking for the next big thing. For Frosty Boy, Ferris' Nitro Cold Brew was that *new* special item they were looking for.
Frosty Boy, the comeback kid.
Locally-owned and operated, Frosty Boy has been a staple in the Creston neighborhood for years. In 2015, after nearly a decade of dormancy, the beloved space revitalized under new management and re-opened to once again begin serving Grand Rapids with local treats. At the corner of Plainfield Ave. and Ann St., the shop is looking toward summer with great expectations as eager customers have already begun to line-up daily. 
The space has a rich history spanning many different business ventures including a barbecue joint, gas station, hot dog stand, etc. They've all come and gone, not quite hitting the mark to stick around. The idea of resurrecting the beloved ice cream shop caught the attention of husband and wife Kyle and Alyssa Naumann. The couple live in the neighborhood and had been looking for a space to open an ice cream shop. As the original Frosty Boy building sat vacant, it felt like destiny that it all came together at just the right time.
The Frosty Boy name is owned by Taylor Freezer of Michigan, which makes soft serve equipment and licenses the brand to businesses that use their equipment and make certain menu items using an established recipe. Even with the legalities of franchising, the Grand Rapids location is completely owner-owned. The Naumann's and their staff create new flavors and customize their menu. 
"Between me and the staff- we come up with everything! We're mixing every night and we get to be creative with weird combinations. If something sticks- we'll feature it." Alyssa Naumann explained. "We're always changing it up!"
This flexibility allowed the Naumann's to start thinking outside the box of what is traditionally found on an ice cream shop's menu. Sure, you have your hard-serve scoop ice cream, the soft-serve machine of course, and then the assortment of toppings, whips and dips. But there had to be something more, something not quite tapped into yet...
"Who doesn't love coffee and ice cream?"
Frosty Boy and Ferris have worked together for six years now. Both Grand Rapids-based companies have built reputations on being locally-owned and operated. At Ferris, we love to be able to work with neighboring restaurants and businesses to help lift-up and continue to grow the local economy. 
"We've used Ferris Nuts since 2015, but we've always gotten them through different distributors. Now we work directly with them one on one, which also has helped us bring on more of the nuts plus introduce the Nitro Cold Brew shakes. They've been a huge add to the menu and people love those shakes. They're a little addicting," Alyssa admitted.
As a wholesale customer, Alyssa and her team at Frosty Boy have access directly with Ferris and the internal team for added support throughout their busy seasons. With access to hundreds of different products, Naumann can easily reach out to her designated account manager whenever she's faced with running out of product or looking for something new.
"Making the switch to wholesale directly has made things so much easier to reach out directly. We're so close that it's nice and convenient that if we run out, I can run over and pick it up on a busy weekend!"
Their team looks optimistically towards summer with high hopes after the past year of shut downs, restrictions, and limitations. Despite those challenges, Naumann took the opportunity to go above and beyond to support her city in 2020. Instead of throwing away perfectly fine ice cream, Frosty Boy donated to front line workers like nurses and doctors at Spectrum Health.
"I don't like to see ice cream go to waste. I think that's really sad," Naumann said. "So if I can't give it to our wonderful customers then I might as well give it to the people I think are the most deserving right now, and that is the people in the health care industry, she said. "Anything I can do to help brighten their day because they're putting their lives on the line for us right now." 
That act of kindness was one that resonated with the community and strengthened the loyalty of customers. "I think people come back year after year because we have quality ice cream and affordable prices. We are always coming up with new creations with gluten-free and non-dairy options so the whole family can still come and be included."
So Grand Rapids, don't hesitate to grab an ice cream, sundae, or Nitro Cold Brew Shake from Frosty Boy while you're enjoying the warm Michigan weather. Be sure to get there early because the loyal customers of Frosty Boy will be there lining up!
Recommendations
Caffeine indulgence: Ferris Nitro Cold Brew Shake
Can't miss menu item: Lemon Soft Serve. Try it dipped in a crunch coat if you're feeling extra! 
Specialty Flurries: The Allergen- not for the faint of heart.
Scoop this fun fact: Frosty Boy offers hard-serve ice cream from Country Dairy and Ashby's, both local Michigan ice cream companies. Try out the Michigan Pot Hole for a flavor explosion!