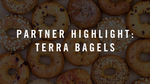 Bagels and Coffee with Chef Clark Frain of Terra Bagels 
Chef Clark Frain brings what we love about Terra GR to a new bagel concept in Eastown.
This interview is part of the Ferris Coffee and Nut Partner Series, where we take a deep dive into our partnerships and the local community, to highlight what makes these connections special.
By Natalie Bronson
Ferris was thrilled for the opportunity to partner with Terra Bagels, a new bagel shop at 1413 Lake Drive SE in Eastown Grand Rapids. We learned a lot about what makes a good bagel and got some great insight into what it takes to run a restaurant, especially in these challenging times. Recently, we sat down with co-owner and executive chef of Terra Bagels, Clark Frain, and talked about the importance of choosing like minded partners, geeked out on bagels, coffee, ingredients, pizza, and themed takeout food.
When you talk to chef Clark Frain about food, you witness the cohesion of passion and analytical thinking that he brings to the field. He has been the executive chef at Terra GR for the past 3 years, a restaurant known for combining great food with sustainable practices. Frain is very much involved in this approach. The integrity that exceeds beyond food quality and recipe creation to seasonality and sustainability points the way to how these ideas help each other, and the restaurant industry as a whole.
*This interview has been edited for length and clarity
Can you tell us a little bit about your experience as an executive chef?
I'm currently the executive chef at Terra GR. Prior to being at Terra I was the executive chef at Mazzo Cucina d'Italia downtown, before that at Butch's Drydock in Holland and before that for nine years at the Gilmore Collection.
While you were at Terra how did this concept of a bagel shop form and how did it evolve?
Ken Sung, who is the co-owner of Terra Bagels and owner of Terra GR, has a great, long-term relationship with this building. Terra GR is here and Ken's wife, Jill, is the owner of Wax Poetic candle bar next door. They had kicked around the idea of expanding Terra and when a space opened, the opportunity was there. We thought of some ideas and Ken said – what about bagels? It went in one ear and out the other at the time. We did a walk through, looking at the floor plan, bar and dining was out the window, it was tiny. He asked again what I thought about bagels and I said I would do some research. We both love bagels, Ken grew up on the east side of the state and bagels are the one thing always in my fridge, everything bagels with vegetable cream cheese. So, I started developing a business plan and we finally sat down a month later.
We felt like it was something we were both comfortable doing. We thought if we do decide to do this, we are both going to do a lot more research. I started developing recipes and running things on feature for Terra brunch and playing around with bagels. I also started researching local competition and on a larger scale – bagel shops in New York City on Instagram – I follow all of them right now. And we finally took a trip to Asheville NC. There is a James Beard award winning chef who has a Spanish restaurant called Curate, and she opened a second business called Button and Co. Bagel. I DM'd them on Instagram, they couldn't have been more cool. I got to tour the shop and they were incredible. After leaving, I knew I was all in and that I could handle it, execution-wise. We signed the lease. Ken is not going to take the credit for the bagel shop because he's that kind of guy, but it was his idea.
Were there any other bagel cafes that inspired you? What stood out about them?
The one that I follow the most is Yeastie Boys in California; a food truck. They have a great following. They get all of these re-posts; everyone is taking pics of their bags and marketing.
Let's segue into a more serious question – There's been a lot of uncertainty with this year and the pandemic. How did you cope with how the restaurant was shaken up and pivot with your plans for Terra Bagel?
We hit pause on the project. We had back-end things picked out, we were hoping for a late May opening. Obviously, that hit pause. We had to keep Terra strong. Once we could sustain Terra and make sure that we were going to come out of it just as strong or stronger in some cases we were able to get back on the plan and get the wheels in motion.
I know that you did some exciting stuff with Terra and planned some themed take-out meals.
Yeah, so that was the most fun I've ever had in my career. First of all, I have the two best sous-chefs in town. I don't say that to be braggadocious; I have great respect for some other restaurants. I love the team at Reserve, they are a kitchen loaded with talent. But I know how good my two guys are and they should start getting more accolades. Ryan McClure, the chef de cuisine, and Luke Cahoon.
The first week, when it was takeout only, we just burned up Terra's menu. We had to scale back on staff and there was only the three of us. We thought, what can we do there aren't enough hours in the day for us to prep everything. The wood fired oven held us through; people chose to eat pizza, it was something we could do very well and is good for takeout. We also came up with a pop-up menu, we had to be clever, we can do 5-6 items and that's it. It was really just us having fun. We would wrap up service, have a High Life and a Fernet, and we would write next week's menu. We did Latin, Italian, West Coast, East Coast, Southern. We had a lot of fun with it.
What's your true opinion on the New York City bagel? Do you think they have supreme bagels? Is it the water?
I think they do have supreme bagels and I don't think it's the water. If there's a book on New York bagels I've read it. I was planning a trip to New York but it got canceled, so planning that in the future.
I think it's the bagels and it's the atmosphere.
On your website it highlights that your bagels are boiled. Why is that an important distinction and why does that make for a good bagel?
Other cafes may steam or bake and that's fine, but for us, we wanted to do an authentic traditional bagel. We knew that boiling is really what helps a lot of different components, specifically the chew. Altering the heat in the oven is what's going to give you your skin or the crust on the bagel. Proofing it overnight is going to help with the flavor and the texture. Boiling is the only way that you're going to achieve that dense, but soft chewy crunch. High heat for a short amount of time.
What is an element that you uniquely bring to Terra Bagels?
I wanted to do some elements in-house and I wanted our recipes to be fun and delicious. We are doing our own pastrami, our own lox and schmears.
When you think of some traditional bagel recipes - the everything bagel, asiago, breakfast sandwiches with egg and cheese, lox – these are the heavy hitters. When you were building your menu how did you want to stick with familiar bagels and sandwiches and how did you want to divert from tradition?
So, the way that we will divert from tradition is when we have seasonal ingredients on hand that we can become clever with. We'll have to pivot, I could order tomatoes from somebody that's not growing them locally, but that's not our move.
You've expressed in the past that you and Terra have a passion for sustainability. For example, choosing local farmers. Is that something that you've carried on to this venture and in what ways does Terra Bagels focus on sustainability?
It's 100% the same. We use all the same farmers and vendors that we use over at Terra. West Michigan Farmlink has the ability to tie us to small farms that can't make it to the farmer's market or who don't have a delivery service provider. We use some larger farms that will come to our shop once or twice a week if needed.
What was important for you when you were choosing coffee for Terra Bagels and what did you learn about coffee that you didn't know before?
First of all, AJ (Ferris Coffee's Head Educator) is awesome. He's really knowledgeable but also approachable. Sometimes your educator can leave you feeling on the not-so-bright side, or you can have someone who is excited about what they're talking about and who will leave you feeling engaged and feeling that you're paying attention on a far different level.
For coffee, I knew that there was different origins and flavor profiles, but to tie it all together is what really helped.
When I looked at choosing a coffee partner, I wanted to make sure that it was a good fit. That they care about some of the things that we care about. I really like what Ferris does and what they bring to the table and they've got great coffee.
Speaking of the relationship of bagels to coffee, bagels have a culture of their own that has strong opinions attached to it. Were you intimidated by this, opening a bagel shop? In the coffee industry, we're also faced with a much loved product that has subjective tastes, so how do you make the executive choice to lean in a certain direction when it seems like there are many directions as far as a specific food culture goes?
I knew that we were going to be under a microscope, were we going to be able to back up the kind of bagel we wanted to make? There's pressure, but there's also excitement when you're proud of what you're going to do, and I'm excited about this project.
What is a don't-miss item at Terra Bagels right now?
I'm really proud of our lox. We use Aquavit from Long Road Distillery. I spritz a little bit of lemon juice and Aquavit on the top of a salmon filet, then put on my sugar/salt cure, add dill and wrap it up. Also, and this ties into sustainability, the bagel chips. I knew that we were going to have leftover bagels and I wanted to figure out a way to use them. Our goal is for items on the menu to be able to cross over.
Do you plan on embracing the connection between Terra GR and Terra Bagels or do you want to make your own identity at Terra Bagels?
I think we have to embrace the identity. We wouldn't have the opportunity to be Terra Bagels without Terra GR. And since we are sharing or mirroring the philosophy and core behind Terra GR I think it's important that we embrace it.
You've been working with food your whole professional life; how do you still find inspiration?
I'm slightly competitive. I watch other chefs; that inspires me. They are talented and I want to make sure I stay on my toes. I try to get a new cookbook once a month, it's like my allowance. I like to work with my team, develop that relationship, and watch them grow. When they can bring an idea to the table and I can help them out, steer them in a direction where it can go from paper to plate, I find that really rewarding.
As more chefs become household names, do you have any that are your top inspirations, who have been innovative in their field?
Thomas Keller and David Chang. Mark Vetri, from Philadelphia.
What do you like about the Grand Rapids food and beverage scene and what would you like to see?
I want to see more chef driven restaurants. More restaurants that are focused on the seasonality and the menu.
Recommended Further Consumption

Food: A lox bagel at Terra Bagels, paired with their signature coffee blend.

Beverage: Miller High Life and Fernet

Gastropod Podcast – "The Bagelization of America" May 26, 2019