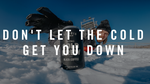 It may be the dead of winter in Michigan, but we aren't letting that slow us down. We've launched a whole new look to our Nitro Cold Brew coffee and despite the weather, we are popping cans everywhere we go! Teaming up with the guys from MiPlayground, we want you to embrace the cold, too! 
The great state of Michigan gets to experience several months of cold forecasts. It can be very draining on people but the way to get around those chilly blues is to get out and embrace it! There is not such thing as bad weather, just bad gear. That's what they say, at least. From visiting the U.P. in the summer off-season, snowshoeing on your favorite hiking trails, or hitting up some pond hockey- the activities are bound to get your heart pumping! 
Our nitro cold brew is brewed with coffee sourced directly from our partners in Central and South America, Ferris Nitro Cold Brew is infused with nitrogen creating a smooth, rich creamy finish. Crafted simply from just filtered water and coffee, it's so delicious no added sweeteners, creamers, or preservatives are necessary. Don't let the fact that it's in the cooler scare you away from bringing this bad boy on your next outdoor adventure! It's packed with caffeine and being able to pop it & chug it will give you more time on the slopes or building a snowman! 
Just check out how MiPlayground embraced the cold brew: