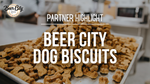 Everyone love's peanut butter, including our furry four-legged friends. For over five years, one notable company in the Grand Rapids community has been crafting delicious biscuits with a purpose.
When we had the opportunity to work with Beer City Dog Biscuits, our tags started wagging. Anyone can see their presence throughout the Grand Rapids community, finding their biscuits on shelves at grocery chains and mom & pop stores. Since 2018, they've exploded in popularity- both with humans and our four-legged friends. The city itself has been becoming more and more pet-friendly with many restaurant patios and trailheads welcoming furry friends. It seemed like a natural fit that our All Natural Nut Butters would work in their recipe. We were fortunate to participate this month with their special "IPawA" release in collaboration with Founders Brewing.
About BCDB
In 2018, Tad and Suzanne Wilcox and David and Leslie Hooker formed a nonprofit 501(c)3 on behalf of their adult sons, both of whom have disabilities. A vibrant living community for those with development disabilities is the long-term vision of this nonprofit. The immediate need is to provide them with an opportunity to be productive every day.
Beer City Dog Biscuits business is tailored to meet the unique abilities of each volunteer and employee to enable them to participate in all aspects of the business. They will be planning/forecasting demand, assembling, baking, labeling and weighing bags, packing, and processing orders. Additionally, employees will be identifying sales opportunities, calculating costs, counting cash and credit sales and making bank deposits. Leadership volunteers assist and guide in the process; each stage is intentionally created to support project-based learning and work skill development that enables employees to learn valuable life skills.
We believe all people, regardless of their abilities, enrich our community. Those with disabilities are essential; without their presence in our workplaces, neighborhoods, and churches, our community is incomplete!
Crafted with Care 
We were fortunate enough to be invited into BCDB's facilities for a tour and an overview of their baking process. Aromas of peanut butter fill the air as everyone gets hard to work creating the doggy snacks. Each treat is hand-made and packaged with care by the Brew Bakers, a team of disabled adults who are the core of the company's culture and business process. At BCDB, they strive to help each Brew Baker develop valuable skills throughout every step of the biscuit baking process, from mixing dough to packaging biscuits.
At Ferris, we take a similar approach to creating our nut butters with highly-trained staff members. Using minimal, clean ingredients, our goal is to craft nut butters without all the fluff. There's no need to be standing in a grocery aisle reading a novel of questionable ingredients on such a simple product. We roast every peanut to perfection before grinding them in small-batches. This ensures for consistency from batch to batch and allows us to accurately track the quality. "We strive to keep it simple," Sarah Eyk, Director of Marketing at Ferris said. "Peanut butter is a classic snack that so many of us have concrete childhood memories with. What we do at Ferris is simple, but not easy. We always make sure the product we turn out is delicious and it's no different for our furry friends." 
Learn and Shop Beer City Dog Biscuits 
With the support of the BCDB community of friends, family, and treat lovers, 100% of donations and sales are re-invested into their mission to support disabled adults in their personal and professional growth.
Visit their website and learn more about the amazing work BCDB is doing throughout the Grand Rapids community. And be sure to visit their website to find where you can find biscuits near you or ship directly to your house by shopping online!
Join us in the Founders Brewing taproom for an event featuring the release of the IPawA beer and tasty treats for your furry friends! Beer City Dog Biscuits will be hanging out from 11am-close, so come enjoy a beer and stock up on biscuits, all while supporting this great organization! RSVP on Facebook here.
***Disclaimer: Please consult with your vet if you change your pet's diet. Only give your dog peanut butter and not almond or cashew butter. Reach out and speak with your vet for further answers on your pet's diet.****