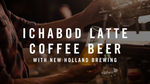 We've teamed-up to celebrate our love for fall, beer, and coffee and rolled them all into one! Combining the infamous New Holland Ichabod with our Harvest Blend was a no-brainer and as a result, Ichabod's Latte was born! Together our passion for this collaboration resulted in a this delicious brew! 
Beer-lovers rejoice! It is that time of year again when the humble pumpkin ales return to the shelves. Despite the many opinions craft beer drinkers hold, the pumpkin beer has stood the test of time as one welcomed back every season. Versatile and comforting, these beers are often associated with Oktoberfests across the globe. With notes of marshmallows, spices, pie, or donuts, pumpkin beers are often adapted to a variety of styles- from ales to lagers, lights or seltzers. All this means to us is that everyone can find one they appreciate. 
What makes Ichabod unique is that it's sessionable- 4.5% ABV. Often referred to as "refreshing" or "light," even one review on BeerAdvocate.com said,
"Nothing about this beer leaves me Sleepy nor Hollow. Pour this beer just right and it won't leave your glass headless! Hop aboard this Ichabod train, cause it's worth losing your head over!"
This isn't Ichabod's first rodeo either. This beer has been around long before the boom of craft beers. "We released Ichabod for the first time more than twenty years ago and it was one of the first beers we ever brewed," said Joel Petersen, Vice President of Beer Sales. "The anticipation of this limited-batch ale remains one of our most anticipated releases every fall." 
We were able to pick the brain of the brewmaster over at New Holland and take a deep dive into this delicious beer's creation!
Why did you choose Harvest Blend to add to Ichabod?
It was a no-brainer for us. We love fall and drink a lot of Harvest Blend and we figured this would not only be a great marketing idea but, more importantly, a great idea for an Ichabod Variant as well. Turns out we were right!
What stage is the coffee added into the beer? And why then?
We have found cold brewing the coffee to be the most effective way to get a controlled, delicious, and repeatable flavor. We prefer adding coffee after fermentation. We want to preserve as much coffee flavor as possible, and we have found that this gets the best results!
How much coffee is used?
The short answer: it depends. The flavor of the beer really impacts how much coffee flavor comes through, and how strong we want that balance to be. We are still tweaking how much we will be adding.
What malt you use to helps compliment the flavors?
We used a few different varieties of roasted malts to the recipe. These malts really help layer in with the complexity that coffee brings. 
What do you like most about this beer?
I love how session-able it is at only 4.5% and yet still has amazing flavor. I love that the ingredients taste so real because they are real. We only use really pumpkin, cinnamon and nutmeg. The spices are rather subtle so it's not very sweet at all which is why you can drink a lot of them. Finally, the branding is such a great tie in to fall. Ichabod is a character from a classic spooky story and as a beer name allows us to says it's fall in a subtle but cool way. Best pumpkin beer in the land!
What's your perfect Fall setting to enjoy this beer?
A cabin in the woods sitting outside around a fire with family and friends on a chilly night in the fall when the leaves are at their peak colors. 
Do you hope to do more variants?
The pubs are a great space to try new ideas. Never say never!
We're so excited about how it turned out and we can't wait for you all to try it. Available on draft for a super limited time right now at New Holland's Grand Rapids Brewpub and tapped at the Holland Brewpub October 14th, 2022!