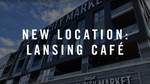 Lansing's Capital City Market is NOW OPEN! 
A part of The Gillespie Group's long-awaited BLOCK600 development, this market by Meijer is focused on providing fresh and convenient food with value to customers. The 4,500 square foot produce department, which will feature and promote Michigan-produced goods, is restocked with fresh food seven days a week and boasts 3,500 products that are unique to Michigan. The store also has six full aisles of food goods, and several aisles of home, health and beauty supplies.
At Ferris Coffee, we're lucky to be a part of the new journey in the Lansing community. Our new location is an exciting step for the company to grow and provide our specialty coffee to more Michiganders. "It's encouraging to see all the welcoming messages and feedback from the Lansing community already," Sarah Eyk, Marketing Manager at Ferris said. "So many of our regular customers and fans from the Grand Rapids have moved to that area and they're excited to have a piece of home so close to them now."
The 37,000 square foot Meijer store features an open-style café area with plenty of seating. It's a great place to meet up with friends, share a drink with family, or fuel-up before doing your daily shopping! The six garage-style doors in the front will be open when the weather is comfortable and warm.
"We are so excited for Lansing. I can't go anywhere in the last week without everyone saying 'this is so awesome.' Not only do we have a grocery store, but we have a grocery store with affordable prices," Lansing Mayor Andy Schor told a small crowd gathered in the parking lot earlier this afternoon. 
We will have an array of our specialty beans available in the aisles of the market, plus a full espresso bar where we can whip up lattes, cappuccinos, and more! One popular item menu from the Holland Café has made it's way to Lansing. Our unique, original milkshakes will be available in the café with a variety of flavors and milk (or milk alternatives) to enjoy! Allow our trained baristas to create your classic drink or find a new favorite!
Need more coffee for at home? You can shop our whole bean selection in both 12 oz. bags as well as bulk coffee within the store. Whether you need one pound or five, we have you covered!
Ferris' Capital City Café is open seven days a week from 7am - 5pm.