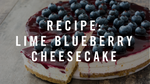 In this recipe: Cinnamon Spice Peanuts
I'm so excited to start off this blog with a perfect summer treat. Once a month (or more if I'm incredibly inspired) I'll share my favorite recipes that are made with Lush Nuts. So, back to the bars – these are fresh and tangy, and have a fun twist with the Cinnamon Spice peanuts baked right into the crust. Here we go:
Crust 
Pan Spray
9 graham crackers
½ stick unsalted butter, melted
½ cup Cinnamon Spice Lush Nuts
Filling
16oz cream cheese, room temp.
2 eggs
2 limes, zested & juiced
½ cup sugar
1 cup fresh blueberries, rinsed
Directions
Preheat oven to 325°F.
Crust
1. Spray the bottom of an 8"x8" pan lightly (this is so that the parchment paper sticks). Cut a piece of parchment paper slightly larger than the pan – about 2" on each side. Using a pair of scissors cut a straight line 2" starting at each corner going toward the center of the paper. Push the parchment into the pan and overlap the sides. Perfect fit without any bunching!
2. Using a food processor, process the graham crackers and Lush Nuts until they're the texture of breadcrumbs. Add the melted butter and pulse a few times until incorporated.

3. Pour into the lined pan and press down with the base of a glass.

4. Bake until golden, about 12 minutes. Set aside to fully cool.

Filling
1. Mix the cream cheese and sugar on medium speed with paddle attachment and until combined and smooth. Add the lime juice, lime zest, and eggs and continue until fully incorporated.
2. Careful not to over mix because this will cause cracks! Pour the mixture on top of the crust and spread it evenly.

3. Sprinkle blueberries on top – they will sink a bit, but not to worry.

4. Bake for about 30 minutes or until the middle slightly jiggles. Careful not to over bake because this can also cause cracks. Remove from the oven and let cool completely, then refrigerate for about 3 hours to set. Remove from the pan by pulling up on the parchment paper and evenly slice into bars.
Enjoy!