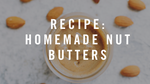 Nut butter has grown in popularity over the past few years. They're healthy, delicious, and… EASY TO MAKE!? Yeah, that's right. We said it. Making your own nut butter at home is really simple!
Store-bought butter can be convenient, sure, but we're reaching for our homemade versions for a few reasons:
You get to stay home!
Cost-effective
No added sugar, salt, or chemicals
Use what you already have
Create your own fun blends
Choose how much/how little you want to make
So fire up your food processor (or blender) and try out some of our favorite nut butter recipes!
The stages of the blending process:
1. Blended for 1 minute. Seeds are still grainy and course, similar to crumb texture. 
2. Blended for 5 minutes. Mixture has formed into a sticky ball that will roll around food processor. 
3. Blended for 8 minutes. Mixture is creamy but still thick and slightly grainy.
4. Blended for 12 minutes. Butter is creamy with a bit of crunch & is ready to eat! 
Simple Nut Butter Recipe
This can be your base recipe for an easy nut butter. We are using raw almonds and toasting them ourselves- this will help make the almonds blend easier when they are warm. You can get creative with this recipe! Substitute Cashews, Walnuts, or Pecans and surprise yourself with your ingenuity! 
Ingredients
16 ounces (3 cups) Raw Almonds
¼ teaspoon salt
Optional: ¼ teaspoon ground cinnamon
Optional: ½ teaspoon vanilla extract
Optional: 2 tablespoons maple syrup or honey
Directions
Preheat oven to 350 degrees Fahrenheit

Spread the almonds across a large, rimmed baking sheet and toast the almonds for 10 minutes, stirring halfway.

Remove almonds from oven and let cool till warm.
Transfer the almonds to a food processor (or high speed blender). Blend until creamy, pausing to scrape down the sides as necessary. PATIENCE! You may get frustrated but this will take time.
Flour-like clumps will form to a ball against the side of the food processor- scrape down those sides! Finally, it will turn creamy! Don't let the mixture get too hot, take breaks if needed!
After mixture is smooth and creamy, add in option ingredients! Blend until those additional ingredients are well mixed in.
Let the butter cool and store in an air-tight container. We put ours in the fridge and it will last up to two weeks.
Sunflower Seed Butter
This recipe works for any roasted nut (peanut, almond, etc.) or seed! If you like the nut or seed you're bound to like the butter, so try and get a little creative! Keep in mind, 1 cup of nuts will yield around 2/3 cup of nut butter. 
Ingredients
Directions
Pour 3 cups of sunflower seeds into a food processor with an S-blade attachment
Process the seeds for 10-12 minutes (or until your desired consistency), occasionally stopping the food processor and scraping the mixture down the sides
At some point, the mixture will form into a ball. Don't worry, just keep processing until smooth!
IMPORTANT: Do not add any water to the mixture, it will cause the butter to seize up! If you use a roasted nut or seed, there should be enough oil in the product to create the creamy texture you're looking for, so you don't need any additional oil. 
Store in a mason jar at room temp or in the fridge!
Sunflower butter is salty and almost savory, so there are a variety of ways to use it. We like it spread onto rye toast with a slice of tomato and a fried egg!
Dark Chocolate Sea Salt Almond Butter
If your mouth is watering from just the title of this recipe... cool, us too. We like to live on the sweeter side of life, so throwing a little chocolate into our homemade nut butter was a no-brainer. You can play around with flavors, use milk chocolate, make it vegan, whatever works for you and your taste buds! We like to spread Dark Chocolate Sea Salt Almond Butter onto some toast, dip some fruit into it, or just take down an entire jar in one sitting (if we're being realistic). 
Ingredients
1 cup Roasted Almonds
1/8 tsp vanilla extract
3 TBS dark chocolate chips
1/2 tsp coconut oil
1 TBS cocoa powder
1/2 tsp honey (agave or maple syrup are easy vegan swaps!)
1/2 tsp sea salt
Directions
Prepare almond butter using the nut butter base recipe from above
Melt chocolate chips and coconut oil in a bowl in the microwave
Add chocolate, cocoa powder, honey (or substitute), and salt to food processor with almond butter. Blend until smooth.
Serve it up immediately or store in a mason jar at room temp