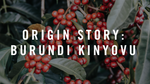 JNP Coffee was founded in 2012 by native Burundian Jeanine Niyonzima-Aroian. Jeanine also founded the nonprofit Burundi Friends International, which has supported women coffee farmers since 2013 in Burundi, one of the world's poorest countries. Social impact is at the heart of her work. Both organizations focus on gender equity by educating women farmers on high-quality coffee production and providing them with leadership and financial literacy trainings. In addition, JNP Coffee pays a significant premium to women farmers to promote quality and assure sustainability for 1950 families in the communities where these beautiful coffees are sourced. Each washing station processing women's coffee has capacity of two and four containers per harvest.
JNP Coffee supports women farmers through the IWCA Burundi Chapter at the Kinyovu Washing Station. Established in 2011, it is part of the International Women's Coffee Alliance, whose goal is to empower women within international coffee industry. They do this by supporting and growing the network of self-organized, self-governing, and women-led chapters around the world. The chapter pays premiums to members and has increased the visibility of farmer members to buyers. In addition, members have participated in food security projects and received coffee roasting equipment donated by our partner at origin. We are so excited to bring back customer favorite and support the women throughout the IWCA.
Coffee is a vital part of Burundi, a small country about the size of Maryland. The area is divided by a narrow line of tall mountains that separate the Nile and Congo River basins. Along this range 800,000 coffee farmers produce a unique flavor profile, rare and balanced.
This coffee is crafted and created by many small farms within the region. Nearly 3,800 coffee smallholders make up the Kinyovu Co-Op, each owning anywhere from 25-250 coffee trees per farm. The women who own these coffee farms take extensive measures, from tending the coffee trees to harvesting only red ripened cherries, to ensure the highest quality results. "I think what makes this unique is the fact that Women run this washing station as well as the co-op.  Women often help with picking and sorting in the coffee industry, but the money doesn't end up going to them, it ends up going to their husbands or other males," Sam Mirto, Director of Coffee explains. Because each farmer has a lower quantity of tree, the co-op has great success in working together to produce something magnificent.
Cherries are handpicked every morning and delivered to the washing stations (wet mills) in the afternoon and throughout the early evening. Each farmer's delivery is processed daily, thus producing micro-lots that can be traced to a specific hill. Cherries are de-pulped daily through water-process machinery and single- or double-fermented for 18 to 24 hours. The coffees are pre- dried under shade, and then sun-dried on African raised beds for an average of 28 to 30 days. De- parchment, or removal of the final silver skin or chaff by machine, occurs at the dry mill. The green coffee is then packed in GrainPro bags prior to export.
"With this coffee, payment is made to the women in charge.  It's been found that women are much more responsible with money once payment is made compared to men (surprise surprise).  Whereas men will usually take the money they make and buy beer, women invest in their family's needs."