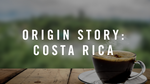 Our approach to coffee follows the same approach to people: it's the relationship that matters. A leader in the industry for over 92 years, we have seen all kinds of good, bad and ugly come and go. Trends change. Preferences change. Technologies change. While we embrace every season, the fundamental responsibility of connecting people through a great beverage will always remain, and it is important to us that our coffee is accessible to everyone, not just a select group.
"Going to origin changes your perspective on coffee, plain and simple. I'm not talking about the type of trip where one simply takes selfies with the locals in an effort to show the world how well traveled they are. Of course, selfies and pictures will all take place inevitably; it's hard not to become enamored by the beauty of a country that is completely different than your own, and there's nothing wrong with that!"
However, through the fluff, you'll begin to remember why you got into the business in the first place, and the real reason that we, as coffee professionals, have the privilege to do what we do—and that, of course, is the people. My first origin trip was in November 2014, when the opportunity to travel to Costa Rica presented itself," said Sam Mirto, Director of Coffee here at Ferris.
Costa Rica stands out to us because of its accessibility. 
Our team traveled to Costa Rica in 2015 to meet with our farmers, learn more about the process and most importantly, hear the stories of the people behind the coffee. The team traveled with Exclusive Coffees, headed up by Francisco Mena. Mena works with some of the best micro mills in the country and Exclusive Coffees is at the forefront of experimentation and quality improvements. 
Upon arrival, the Ferris team met with producers and toured farms from which the company  might potentially source coffee beans. Simultaneously, our team was able to gain a better understanding of the farmers' growing and processing practices.
Along with touring farms and mills and meeting producers, they cupped, tasted and scored 60 different coffees in the cupping lab at Exclusive Coffees. Cupping is the practice of observing the tastes and aromas of brewed coffee. Utilizing this practice, team members were able to select a variety of coffees to bring back home. These included Montañas Del Diamantes, Granitos de Ortiz and Sumava. All of these flavors are traceable to the very farm where they were grown and harvested, and our purchasing strategy ensures that each producer is able to make a profit from the sale to Ferris. 
In addition to simply procuring coffee from one exceptional region, our team sought to source three specific coffees, one for each tier in our unique, three-tier scoring system. Appreciating that all coffees have different nuances, processing methods, tastes and aromas, we have categorized each of our brews according to this system since late 2014. Sorted based on availability and scoring, specialty coffee starts at 80 and can score up to high 90s. The Ferris coffee team has found that this is an approachable way for customers to understand our product and is essentially a transparent way to buy and sell coffee. 
| | |
| --- | --- |
|   | Score between 80-83 points and provides a great cup at a more approachable price point. These are usually available all year round to our customers. |
|   | More seasonal and may be available for roughly six months. These score between 84-86. |
|   | Score 86+ and include many Cup of Excellence1 offerings. These flavors tend to go through a more expensive process and are typically served on a limited release.  |

Our goal with any origin trip is to deepen our relationships with our producers. When cultivating a healthy relationship, it has to be a two-way street. Sam spoke about how honored he felt not only to learn from our farmers, but that they also valued and sincerely enjoyed his knowledge and feedback:
"Our partners are so incredibly gracious for the business and relationship. I realized that I had an opportunity, even an obligation, as someone lucky enough to go to a coffee-growing country, to form a long-term connection with a producer that will yield growth for both businesses for a long time to come," Mirto explained.
As we get to know our farmers, the workers and the people behind the beans we purchase, it becomes clear just how many hands go into making our coffee before it hits our cups. We consider it a privilege to be in this industry, and we have a great responsibility to serve a product that so many people have worked hard to produce. Because of this, our team works diligently to source, roast, brew and serve our coffee in the best way possible for our customers. After all, at the end of the day, it's people that matter most.