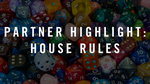 The board game revolution is exploding and Grand Rapids, Michigan is lucky enough to have a locally-owned gaming lounge conveniently located downtown. House Rules Board Game Lounge opened in December 2020 and offers a fun environment for all ages. With hundreds of games to play and purchase, every visit to the Lounge is sure to be a new adventure!
The first of its kind in West Michigan, House Rules Board Game Lounge has established itself as one of the most unique spots in Grand Rapids for locals and tourists alike. Located at 404 Ionia Ave. SE in the ground level across from the Downtown Market., guests can enjoy a plethora of games to try before buying; classics like Risk and Clue to the new-era board games like Catan or Pandemic. What you wont find: Monopoly. But don't worry, there's plenty to choose from!
A Booming Industry
Co-owner of House Rules, Brian Beaucher elaborates, "Is gaming nerdy, yes and no. If you're playing LIFE with your family, not so nerdy. Your'e just hanging out playing a game. If you're doing DND, very nerdy. Today I feel like so many of these games are in-between." It's no surprise that the rise in popularity of board games correlated with the 2020 pandemic resulted in a growing industry. People were stuck inside, exhausted from digital consumption, and looking for ways to stay connected and active. In fact, the global board games market is worth over $3.2 billion and is set to rise to $8.12 by 2021 according to board games market value data on Statistica. So we dare to say, no longer is it "nerdy" to grab a game to find a little escape. And now more than ever, the options for gaming has exploded beyond the big-name producers such as Hasbro. In fact, some of the most popular games available today are indie tabletop games – something that certainly couldn't have been said just a decade ago. With new games releasing monthly, it's easy to say that there's most certainly a game for everyone.
Beaucher's own love for gaming started more than thirty years ago with the ever-beloved game: RISK. "My passion for board games started when I was ten, playing RISK with my brother for multiple days at a time and really got into game. When I went to college though, I learned theres more than RISK and the basic games we all played as kids." He's right and he brought that vast universe of gaming to House Rules. In their gaming library, guests can choose from over 200 games to try out and experience. The intention is to give people a chance to explore their interests and step outside their comfort zones with the hope to experience a new game that perhaps they wouldn't have tried before. Currently the most popular game on the shelf: the Clue version of Bob's Burgers! "It's surprising but it's Bob's Burgers but everyone loves Bob's Burgers," Beaucher laughed. "We always sell Catan, a great gateway game to more extensive board gaming, that one is always flying off the shelf. It changes weekly." Trust us, it wont take long for you to delve into the depth of dice and tokens to find a new, undiscovered game that will bring you joy. Check out our recommendations at the end of this blog! 
On the Menu
Drinks
Their immense bar features 20 rotating drafts of local craft beer, cider, mead, and seltzer, including non-alcoholic draft options. In addition to the drafts, they stock local craft spirits to make classic and house specialty cocktails in their impressive 12-door cooler that allows you to pick and choose at your leisure. This is where Ferris comes into play, because if you're choosing a long-lasting game- you'll be needing your energy levels up and ready for action! "I thought about working with Ferris the day we opened. Since we were expanding our beverage selection beyond alcohol, it seemed like a perfect mix," Beaucher said. "We always want to shop as local as possible." You can find our Nitro Cold Brew Black Coffee and Nitro Tea Hibiscus Berry both available in the cooler section. We don't want to understate that their other non-alcoholic offerings are extensive. Choose from hot cocoa, tea, seltzers, CBD seltzers, soda pop, juices, energy drinks, and branded waters! 
Snacks
Beyond our coffee and tea selection, you can also find Ferris Nuts on the shelf! Snack endlessly on our favorites such as Country Mix, Craft Beer Mix, chocolates and more in their store! They do require a $10 purchase minimum per gamer over the age of 12 to sit back and enjoy the lounge but it wont be hard to hit that minimum with the choices on the menu. Every day they offer a small rotating selection of fresh wraps and sandwiches, freshly toasted pretzels from Field & Fire with warm beer cheese dip, or delicious popcorn from Dorothy & Tony's Popcorn! You can most certainly bring your own food, too! 
All Are Welcome
 Whether you are new to board games or a seasoned vet who's led a Dungeons & Dragons campaign- HR Lounge is a destination worth visiting. Their inclusive and welcoming vibes guarantee that you'll feel confident and accepted. "House Rules is very focused on providing a safe and welcoming place to the GR community," Beaucher explained. "Regardless of gaming or drinking, we welcome all ages, all genders, all positions- however you view life- just come game with us!" At Ferris, we feel fortunate to be a part of this growing bunch of board game enthusiasts. Whether you choose to indulge in our beverages or snacks is up to you but we certainly hope you visit House Rules when you're looking for a fun time out with friends and family. 
"When you visit, you can expect to have a good time

 

and be

 

treated well while you're here. We're genuinely interested in teaching you games, understanding what type of games you want to play, helping with rules or questions, and making sure you have the right beverage while you're here. That's our passion and we want to share it with you."
Highlights
Favorite Group Games: Codenames, Ticket to Ride, Sushi Go
Favorite Two Player Games: Patchwork, Bandido
Classic Games: Life, Battleship, Clue
Popular Favorites: Catan, Wingspan, Istanbul
Adults Only: Secret Hitler, Cards Against Humanity, Joking Hazard
Canned Drink: Ferris Nitro Coffee
Snack: Ferris Craft Beer Mix, Ferris Country Mix 
Stay connected with House Rules with their website and Facebook page. And keep an eye open for any future events they'll be hosting here!