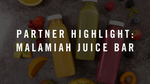 Juice, Smoothies, Coffee and Community with Jermale Eddie of Malamiah Juice Bar
The Heart of Studio Park
This interview is part of the Ferris Coffee and Nut Partner Series, where we take a deep dive into our partnerships and the local community, to highlight what makes these connections special.
By Natalie Bronson
Ferris and Malamiah began their partnership several years ago. It has been exciting to see them grow. Now, at their new location, we caught up with the owner Jermale Eddie and talked about the new space, learned all about juices and smoothies, got some healthy tips, and found out what keeps them going strong and what's in store for this essential local business.
Malamiah Juice Bar is one of the first locations to greet you at the courtyard of the Studio Park complex on 112 Oakes St SW, in Grand Rapids. It's a fitting environment, in this new location that emphasizes the coming together of local businesses with a mix of dining and entertainment options for our community to enjoy. Jermale Eddie, with his wife Anissa and his three sons, for which Malamiah is named after – Malachi, Nehemiah, and Josiah combined – rely on local relationships that allow everyone to grow stronger together. Malamiah Juice Bar leads with a vision of values that allow room for healthy products, education, and, especially, kindness and generosity.
*This interview has been edited for length and clarity
You have what you call a Juice Culture that you run Malamiah by, can you explain what that entails?
It's our vision statement. Originally, they were our family values, Kindness, Excellence, and Integrity. We wanted to create something that lines up a little bit more with what we sell and so we looked at the word juice and thought of an acronym. Essentially everything that we do is wrapped up in this message. J is for our joyful environment – bright colors, big windows, prior to Covid a children's sensory wall and books. U is for being understanding of our staff and their level of expertise, meeting them where they are at and meeting our customers where they are at in their knowledge of our products and educating them. I stands for us being intentional – with our ingredients, with the community, with our partners, and even how we spend and donate dollars, we are intentional about that. C is for community; a lot of our dollars are donated to the community. Even with the pandemic, even during the rioting and all that with us being 35% down in revenue, we are still trying to donate a little money here and there. The E is for excellent products for people to enjoy.
Everything that we do is wrapped up in that culture. If we make the decision to introduce new items, we ask ourselves how does that fall in line with those things? Its like a spellcheck that we hold everything up to in order to get that end result.
Your mission is to elevate community wellness through healthy products, local partnerships, and youth employment. Why is youth employment something that you found important enough to include in your mission statement?
Before Malamiah I was talking to a family member about job interview questions. She didn't have answers to most of them, which wasn't her fault; she had never had a job! How do you sell something that you're not familiar with? So, we thought "wouldn't it be great to create a business model where you can weave in employment skills for youth?". If they come in with zero employment skills but they have a great personality, we can teach them some of these things – customer service skills, how to run the register, even how to cut up fruit. We are a small operation, and can only hire so many youths, so we partner with the Mayor's 100 program, aka Our Community's Children, and organizations like them who train with a curriculum and we interview and do a paid internship. Over the years the majority of these youth have become hired in fully, which shows that they were able to grow in their professionalism and they are able to fit right in. Its another way to effect positive change in the community. Some of these kids have been able to help their families put food on the table. Whether they stay with us or not, we can help them move on to other jobs with letters of recommendation, or even helped to get a grant for 2 years free college tuition (like we did for one of our past employees). In a way, employers also serve as Life Coaches to their staff.
You always hear you need experience to get a job and it's like how do I get experience without a job? I wanted to help out with that.
During Covid, what are some of the things that Malamiah is doing to help facilitate getting access to your products?
We stepped up our game with delivery. We've always had that but hadn't pushed it as much. We started curbside pickup, deliver through FedEx, and I'm out in my Honda Pilot delivering to homes, sometimes at 5:45 am. We recently rolled out a juice subscription through the website, which can be shipped through FedEx or delivered by yours truly. Some people aren't comfortable going into stores or restaurants, but that's okay – we'll bring it to you.
What advice would you give to someone who is a beginner at juicing and what would you like them to know?
I would ask what's their goals? It doesn't have to be super complicated. It could be as simple as "I like juice". Or it could be that they want to get their cholesterol down or their weight down. So, what are their goals and there's nothing wrong with doing it for taste. That's how we started. We liked the taste, and if its gross you will remember forever not to put those particular ingredients together again. – I once  mixed rhubarb and fennel, that was not good to me, don't do that! I'd ask people what they like and don't like and partner that with their goals. For instance, if you have inflammation in the body and you don't like the flavor of pineapple, when you juice it with the skin on it reduces inflammation, so you could drink a bit of it or combine it with something else to balance the flavor. I'd say if there's something you don't like, but it could be the best for your health, you could start incorporating that thing a little at a time. So maybe its kale or spinach, start with one leaf! Then two or three, then a handful. Your taste buds will adjust. I'd recommend watching the documentary Fat, Sick & Nearly Dead (2010). That's what got us started and kept us motivated. We also have smoothies which could be an easier entry point.
So, what IS the difference between a juice and a smoothie?
These are made in two different machines – a juicer extracts the juice from the skin, seeds and pulp. Juice is good for the digestive system. Smoothies can contain more fiber, but juices do have soluble fiber as well. There's room for both in a healthy diet. I would say add one green smoothie to your diet every day if you can. It's not necessarily green just has leafy greens in it.
How did the decision to bring on coffee as a product come about and what did you learn about coffee that you didn't know?
I like the idea of a café, a warm welcoming environment. We started a juice bar, but I always wanted to incorporate coffee for that reason. I meet someone from Ferris at a leadership class at the Grand Rapids Chamber, and I live by Rising Grinds Café which carries Ferris. I then thought we could incorporate that local brand in our shop for something warm for the winter. At Malamiah you have the opportunity to get coffee, juice, a smoothie, cold brew, kombucha, something for all times and seasons. I like that you can go directly to Ferris and see their roasting plant (they roast to order). I also like their values when it comes to farmers and selections of coffee origin.
I learned a lot about coffee, I could taste the notes that the educator described. I learned about coffee to water ratio and that its not always the same for every coffee.
What are some other winter products you recommend at Malamiah?
Booster shots are 1 oz and potent, like with wheatgrass or cayenne, ginger and honey. These help with with sinuses, cold/flu and other symptoms of begin sick. Sometimes we have the apple steamer, where we simmer a big pot of apple juice, cloves, nutmeg, cinnamon, cranberries and orange peels. It's truly a "taste of Michigan".
What is something that people may not know about Malamiah that you'd like them to know?
We are working toward wholesale and we just launched our juice subscription and are excited about that. We also make our almond milk by hand, which is pretty cool. We see Malamiah as a vehicle for good. To do good in the community and to share kindness. We will educate you on products, you can call us up and we'll help you make a juice over the phone, we've done that. We oftentimes find ourselves taking product to the hospitals, sometimes we can do that for free, it's our way of planting seeds of love and kindness through the community. That energy (love and kindness) comes back to you in times like these especially and it's the reason we are still here.
What are you looking forward to in the future?
I see us doing juices wholesale in stores across the country. If we do achieve that goal we would be the first black-owned juice company on shelves, which is a big deal. When we started in 2013, we were only the second black-owned business with a store front in all of downtown Grand Rapids. I see us having multiple locations, with our foundational products, focusing on them and doing them with excellence.
Recommended Further Consumption

Juice - A life changing Green Juice or a Booster shot at Malamiah Juice Bar

Coffee – A smooth Nitro Cold Brew, produced locally by Ferris Coffee

Movie – Fat, Sick & Nearly Dead (2010)