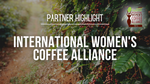 In the realm of coffee, there is a powerful organization dedicated to empowering women and fostering gender equality in the industry: the International Women's Coffee Alliance (IWCA). With a mission to uplift women across the coffee supply chain, IWCA plays a pivotal role in creating opportunities, promoting leadership, and driving positive change.
Today we want to highlight the remarkable work and purpose of the International Women's Coffee Alliance (IWCA) and the beginning of our valuable partnership. IWCA's vision and mission is to empower women in the coffee community through advocacy, education, and networking opportunities. As a specialty coffee roaster, we recognize the importance of supporting women within the coffee industry. We've perviously sourced coffee through the IWCA and now we're excited to announce our official sponsorship.
Global Presence and Impact
Operating in over 25 countries, IWCA chapters work locally to address the unique challenges faced by women in coffee-producing regions. They foster connections, provide training and resources, and promote sustainable practices. They concentrates on four essential pillars: access to resources, market visibility, capacity building, and leadership development. By addressing these aspects, IWCA creates a supportive environment for women, enabling them to excel in their roles.
Source: IWCA Facebook Page
Economic Empowerment
IWCA recognizes that empowering women economically benefits entire communities. By providing access to training, financial resources, and market opportunities, IWCA helps women coffee producers and workers improve their livelihoods. Through special workshops, mentoring programs, and skill-building initiatives, IWCA equips women with the necessary expertise to thrive in various coffee-related roles, including farming, processing, cupping, and entrepreneurship.
"Study after study has confirmed that there is no development strategy more beneficial to society as a whole— women and men alike— than one which involves women as central players. No other policy is as likely to raise economic productivity, lower infant and maternal mortality or improve nutrition and promote health. When women are fully involved, the benefits can be seen immediately: families are healthier; they are better fed; their income, savings and reinvestment go up. And what is true of families is true of communities and, eventually, whole countries." - Kofi Annan (1938-2018)
Ferris' Commitment to IWCA & Women in Coffee
In 2023, we began to explore how we could elevate our single origin coffee program further. All of our coffees are directly sourced, many through long-lasting relationships we've established over the years. While sourcing with intention remains a priority, we knew we had to do more. By becoming an annual sponsor to the IWCA, we wanted to demonstrate our commitment to recognizing and empower women in the coffee industry. As a roaster, it's important to acknowledge that our impact can only do so much. Organizations like the IWCA have the ability to make monumental change in the industry. We're proud to partner with them in this official capacity and are excited to see the continued results of their dedicated hard work. 
To supplement our donation, we launched a Women in Coffee product line here at Ferris. All the coffees within this program are farmed, harvested, or produced by women. Guatemala El Vergel is the first of this program. We discovered this exceptional coffee in 2020 when we took an origin trip to Guatemala. Our VP of Coffee Operations was cupping nearly 80 cups of coffee when El Vergel caught his attention...and his tastebuds. 
Purchased in 2015, the farm of El Vergel lies close to the Mexican border, north of Quetzaltenango. The farm is about 121 acres on the western slope of the Sierra Madre mountain range in San Marcos with a beautiful waterfall that runs through it. Led by two agronomists in charge of the farm, experimental plots are evaluated and analysis of their organic agronomic management systems help improve this coffee year after year. Their forward-thinking and creative process created El Vergel, a seriously enjoyable complex coffee. 
A Catalyst for Change
The International Women's Coffee Alliance (IWCA) serves as a catalyst for change, working tirelessly to empower women and promote gender equality throughout the coffee industry. With a focus on access to resources, market visibility, capacity building, and leadership development, IWCA creates opportunities and paves the way for women to thrive in various coffee-related roles. The partnership between IWCA and Ferris Coffee, exemplified by the annual sponsorship, is a testament to our commitment to social responsibility and their dedication to empowering women. Together, IWCA and Ferris are driving positive change, creating a more inclusive and equitable coffee industry for all.
Source: IWCA Facebook Page