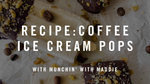 Cooling off with a popsicle in the summer just feels right! But these aren't your average store-bought, freezer-burnt popsicles; these are homemade using some amazing products from Ferris Coffee. Not to mention they are completely vegan and gluten free.
Recipe and blog written by: Maddie Levins-Ireland
Picture this: a creamy coffee flavored pop goes for a swim in rich dark chocolate and gets topped off with crushed walnuts for that extra crunch. Are you drooling yet?! This recipe requires just one bowl and a popsicle mold. The hardest part is waiting for them to freeze and trying not to eat the whole batch in one sitting.
Bound to be loved by kids, grown-ups and everyone in between! For more simple and fun real food recipes, check out my Instagram (@munchinwithmaddie_).
Here are the ingredients you'll need to make your popsicle dreams come true:
For the popsicle base:
2 cups canned coconut cream (full-fat coconut milk should work too)
¼ cup maple syrup
½ tbsp vanilla extract
For the chocolate shell:
1 cup dairy free dark chocolate chips
2 tsp refined coconut oil
For topping:
Directions
In a large bowl with a whisk or hand mixer, stir the coconut cream until smooth.

Add in the remaining popsicle base ingredients and stir until combined.

Pour mixture evenly into 10 popsicle molds. The amount of popsicles this recipe yields may vary depending on the size and shape of your molds.

Freeze overnight or until solid.

Take out of the freezer and let sit for a few minutes before removing popsicles from the mold.

Meanwhile, in a microwave-safe cup/mug, melt the chocolate chips and coconut oil in 30 second intervals, stirring after each.

Line a large plate or baking sheet with parchment paper.

Remove popsicles from the mold and dip each one about 1/3 of the way into the melted chocolate. Shake off any excess chocolate and place on parchment paper.

Quickly sprinkle crushed walnuts on top of the chocolate before it hardens. Repeat for each popsicle.

Store the popsicles in an airtight container in the freezer until ready to eat.
Trust us, you're going to make these once and wonder how you ever survived summer without them! For more fun recipes by Maddie, check out her Instagram at @munchinwithmaddie_ and stay tuned to our blog where Maddie will share a couple more fun Ferris-inspired treats this summer!