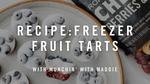 We are making a refreshing yet satisfying no-bake freezer treat that's perfect for meal-prepping! The best part is that they only require 4 ingredients and a few minutes of prep time.
Recipe and blog written by: Maddie Levins-Ireland
Can you guess the main "crust" ingredient? It's Ferris Cherries, Berries & Nuts mix! I will admit that I had a hard time saving these for the recipe because they are just so amazing to eat by the handful. By blending the Cherries, Berries & Nuts in a food processor with a bit of water, you get the perfectly sweet and slightly crunchy base for your fruit tarts. Layer on some yogurt of choice (feel free to get creative with the flavors here) and plop a few fresh blueberries on top to give it that final summer-y touch. Let them harden in the freezer & enjoy! Since they are lightly sweet and full of healthy fats and protein, they make a great dessert, breakfast or mid-day snack.
Ingredients:
2 cups Ferris Cherries, Berries & Nuts: Roasted Salted or Raw
1 tbsp water
8 oz yogurt of choice – I used plain coconut yogurt to keep them dairy-free
1 cup fresh blueberries
Directions:
In a small food processor, add the cherries, berries & nuts mix. Pulse until mostly crushed, then add in the water and pulse again until combined. You want the dough to be able to stick together but still have some chunks remaining.
Place about 1 tbsp of the dough into the bottom of each cavity of a mini silicone muffin pan. Press down. You can also make them in a full-size muffin pan. If it is not silicone, I recommend spraying the pan or lining with cupcake liners.
Add a spoonful of yogurt to each cavity. Top each with 4-5 blueberries.
Place in the freezer until solid. Let them thaw at room temperature for a few minutes before biting in!
Store extras in the freezer. Makes about 24 mini tarts.
Other topping ideas:
Honestly, who knew healthy eating could be so delicious? For more fun recipes by Maddie, check out her Instagram at
 

@munchinwithmaddie_ and check out our previous blog posts for more summertime recipes by Maddie and Ferris!