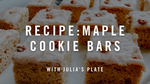 Soft, chewy, melt-in-your-mouth goodness, these maple cookie bars are everything you've been searching for this season! Topped with a cinnamon almond crunch, these cookie bars wont last long!
Recipe created and blog written by
Julia 

Robleski
Hello friends and happy fall! I can't believe it's already November. This year has gone by so fast! It finally started to feel like actual fall here in Michigan last week, so this week we are celebrating with a brand new recipe in partnership with one of my most favorite companies and go-to coffee shops, Ferris Coffee & Nut Co! First off, if you live in West Michigan and haven't visited Ferris, RUN and try all their fall special drinks! 
Today's recipe is actually inspired by one of these fall drinks, the Maple Leaf Latte! The Maple Leaf Latte is made of oat milk, all spice, and Michigan maple syrup. It's the perfect companion for a chilly fall walk, a coffee date with a loved one, or a long day of work. BUT, if you don't live near a Ferris, never fear! These Maple Leaf Bars can be made anywhere, and will give you the same fall flavor. Plus, they're gluten-free, dairy-free, and sweetened with maple syrup. 
They're made up of a a fluffy cake-like base, topped with a creamy vanilla + cinnamon icing, and finished with the perfect crunch of Ferris' Cinnamon Roasted Almonds! Not a fan of cinnamon or almonds? Ferris has a variety of nuts, both roasted salted or raw, that can complete this recipe!
Ingredients You'll Need for this Recipe
All-Purpose Gluten-Free Flour
Baking Powder
Baking Soda
Oat Milk 
Eggs
Maple Syrup 
Cinnamon
All Spice
Vanilla Extract
Powdered sugar (optional) 
Equipment You'll Need
Measuring cups and spoons 

2 Mixing bowls 

Rubber spatula 

Wooden spoon 

8×8 baking dish 

Oven 
Storage Tips from Julia
You can store these bars in the baking dish, loosely covered with foil for 1-2 days, but just be sure to heat them up for 10-15 seconds in the microwave before enjoying! 

After 2 days, move them to the freezer and defrost before enjoying. 
Let's Start Baking!
Prep time: 15 minutes
Cook time: 20 minutes
Total time: 35 minutes
Serves: 12
A fluffy cake-like base, topped with a creamy vanilla + cinnamon icing, and finished with the perfect crunch of Ferris Cinnamon Roasted Almonds! 
Wet Ingredients
2 Eggs
1/4 cup Oat milk
3/4 cup Maple syrup
1 tsp Vanilla extract
Dry Ingredients
1+3/4 cup All-Purpose Gluten-Free Flour, *loosely packed
1/4 tsp Baking powder
1/4 tsp Baking soda
1/2 tsp Cinnamon
1/4 tsp All Spice
Toppings
METHOD
Preheat oven to 350F.
Lightly grease an 8×8 baking dish or line with parchment paper.
In a mixing bowl, combine eggs, oat milk, maple syrup, and vanilla extract.
In a separate bowl, combine flour, baking powder, baking soda, cinnamon, and all spice.
Combine wet and dry ingredients into one bowl and stir until thoroughly combined. *Batter should be thick, but pourable.
Transfer batter to baking dish and bake for 20 minutes or until a knife comes out clean.
Allow bars to cool completely.
While cooling, combine powdered sugar with oat milk, 1/2 tbsp at a time, until a frosting consistency forms. Or, use any vanilla icing/frosting.
Once completely cooled, top bars with icing and sprinkle with chopped Cinnamon Roasted Almonds.
Slice into bars and enjoy!
You can reference Julia's video on her blog here. And be sure to check out the other delicious recipes Julia creates at
 

Julia's Plate website!

 
Toppings and ingredients from Ferris