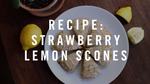 Check out these delectable Strawberry Lemon scones that are perfectly paired with one of our favorite flavors, Rose & Pink Peppercorn. It's a great scone for breakfast with your coffee, but i actually prefer this one with tea - like a Chamomile.
Recipe:
I borrowed this recipe from my friend Sarah at Broma Bakery and simply added 1/3 cup of our Rose & Pink Peppercorn almonds, copped in half. *Add the chopped almonds into the flour mixture to coat before adding the wet ingredients.*
This recipe is so delicious, light and very summery with the bright citrus from the lemons. The almonds add a perfect crunch to the otherwise very buttery texture of the scones.
Enjoy!