Tags:

allergies, allergy, almond butter, butter, cashew butter, education, FAQ, ferris, Ferris Nuts, healthy, healthy snacks, homemade, homemmade, how to, nuts, oil, peanut, peanut butter, peanut oil, peanuts, recipe, roasting, tutorial, why
Food allergies affect millions of individuals worldwide, and peanut allergies are among the most common and potentially severe. However, when it comes to highly refined peanut oil, there is good news for allergy sufferers. In this blog post, we will explore why and how highly-refined peanut oil does not contain allergens, making it a safe option for those with peanut allergies. We're a coffee and nut company... and while coffee doesn't require as much regulation when it comes to allergens, the nut side of out business calls for necessary attention to detail. Most of the questions we receive about our products...
---
Tags:

almond butter, bake, BAKING, beer, beer city, biscuits, brewing, butter, cashew butter, charity, craft beer, dog, dog bicuits, dogs, education, ferris, Ferris Nuts, founders, GR, grand rapids, highlight, local, location, marketing, news, now available, nut butter, nuts, office, partner, partnership, peanut, peanut butter, peanut oil, peanuts, retail, shopping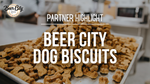 Everyone love's peanut butter, including our furry four-legged friends. For over five years, one notable company in the Grand Rapids community has been crafting delicious biscuits with a purpose. When we had the opportunity to work with Beer City Dog Biscuits, our tags started wagging. Anyone can see their presence throughout the Grand Rapids community, finding their biscuits on shelves at grocery chains and mom & pop stores. Since 2018, they've exploded in popularity- both with humans and our four-legged friends. The city itself has been becoming more and more pet-friendly with many restaurant patios and trailheads welcoming furry friends. It seemed...
---
Tags:

almond butter, almonds, at home, bake, BAKING, balls, berries, blueberries, butter, calories, cashew butter, cashews, cherries, chocolate, chocolate chips, cinnamon, coconut, cooking, cranberries, dark chocolate, dates, easy, energy, ferris, Ferris Nuts, fiber, make your own, no bake, oats, peanut butter, peanuts, protein, recipe, vegan, whole grain
These energizing, protein-packed balls are perfect for busy mornings and post-gym workouts. Better yet? You can customize in what seems like endless possibilities of flavors! You wont need any special equipment to get this recipe done, so let's get started!   Seriously easy, these protein balls are a great solution for meal prepping. They remind us of those classic grandma no-bake cookies we used to east all the time! But his isn't grandma's cookie recipe! These upgraded balls offer the same great taste but with the added protein powder, they offer more than just curbing appetite. These actually remind us of...