Tags:

almond butter, bake, BAKING, beer, beer city, biscuits, brewing, butter, cashew butter, charity, craft beer, dog, dog bicuits, dogs, education, ferris, Ferris Nuts, founders, GR, grand rapids, highlight, local, location, marketing, news, now available, nut butter, nuts, office, partner, partnership, peanut, peanut butter, peanut oil, peanuts, retail, shopping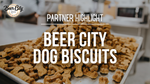 Everyone love's peanut butter, including our furry four-legged friends. For over five years, one notable company in the Grand Rapids community has been crafting delicious biscuits with a purpose. When we had the opportunity to work with Beer City Dog Biscuits, our tags started wagging. Anyone can see their presence throughout the Grand Rapids community, finding their biscuits on shelves at grocery chains and mom & pop stores. Since 2018, they've exploded in popularity- both with humans and our four-legged friends. The city itself has been becoming more and more pet-friendly with many restaurant patios and trailheads welcoming furry friends. It seemed...
---
Tags:

alcohol, beer, coffee, collaboration, craft beer, GR, grand rapids, harvest blend, ichabod, michigan, michigan made, new holland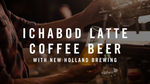 We've teamed-up to celebrate our love for fall, beer, and coffee and rolled them all into one! Combining the infamous New Holland Ichabod with our Harvest Blend was a no-brainer and as a result, Ichabod's Latte was born! Together our passion for this collaboration resulted in a this delicious brew!  Beer-lovers rejoice! It is that time of year again when the humble pumpkin ales return to the shelves. Despite the many opinions craft beer drinkers hold, the pumpkin beer has stood the test of time as one welcomed back every season. Versatile and comforting, these beers are often associated with...