Tags:

almond butter, bake, BAKING, beer, beer city, biscuits, brewing, butter, cashew butter, charity, craft beer, dog, dog bicuits, dogs, education, ferris, Ferris Nuts, founders, GR, grand rapids, highlight, local, location, marketing, news, now available, nut butter, nuts, office, partner, partnership, peanut, peanut butter, peanut oil, peanuts, retail, shopping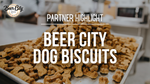 Everyone love's peanut butter, including our furry four-legged friends. For over five years, one notable company in the Grand Rapids community has been crafting delicious biscuits with a purpose. When we had the opportunity to work with Beer City Dog Biscuits, our tags started wagging. Anyone can see their presence throughout the Grand Rapids community, finding their biscuits on shelves at grocery chains and mom & pop stores. Since 2018, they've exploded in popularity- both with humans and our four-legged friends. The city itself has been becoming more and more pet-friendly with many restaurant patios and trailheads welcoming furry friends. It seemed...
---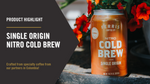 The expansion of our Nitro product line comes naturally with our brand new release of the canned Single Origin Cold Brew. Packed with 196 mg of caffeine and bursting with bold, unique tasting notes, this nitrogen-charged coffee is an essential summer-sipper. It's been an exciting couple of years since we re-launched our Nitro Cold Brew into ready-to-drink widget cans. The original line-up consisted of two teas and one black coffee. "Our Original Nitro Cold Brew has the classic caramel and chocolate notes that are loved in cold brew coffee, so we wanted to offer something else that had a different taste...
---
Tags:

almonds, berries, cherries, costco, dark chocolate, ferris, Ferris Coffee, Ferris Nuts, find, grand rapids, in costco, news, now, now available, nuts, oregon, pacific northwest, PNW, retail, snack, snacks, trail mix, washington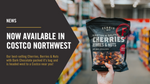 We're thrilled to announce that our best-selling Cherries, Berries & Nuts with Dark Chocolate will be available in Costco's Pacific Northwest Region this April! It's time to celebrate because the crowd-favorite fruit & nut mix is coming to the PNW Costco stores this month! States including Washington, Oregon, Idaho, and Wyoming are about to experience one of our tastiest trail mixes. Ideal for moments of adventure on a camping trip, a lazy Saturday snacking while streaming, or something new to pack in the kids' lunches! This sweet and savory mix featured roasted salted cashews, almonds, and pecan halves combined with the juicy flavors of cranberries...