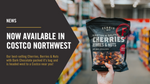 We're thrilled to announce that our best-selling Cherries, Berries & Nuts with Dark Chocolate will be available in Costco's Pacific Northwest Region this April!
It's time to celebrate because the crowd-favorite fruit & nut mix is coming to the PNW Costco stores this month! States including Washington, Oregon, Idaho, and Wyoming are about to experience one of our tastiest trail mixes. Ideal for moments of adventure on a camping trip, a lazy Saturday snacking while streaming, or something new to pack in the kids' lunches! This sweet and savory mix featured roasted salted cashews, almonds, and pecan halves combined with the juicy flavors of cranberries and cherries and balanced with bittersweet dark chocolate chunks. Packed in a two-pound zipper-sealed bag, this trail mix is ready to go where you are!
Why This Mix Is So Great
It could be the perfectly roasted and salted cashews, pecans, or almonds. Perhaps it't the tart cranberries or chunks of decadent bittersweet dark chocolate. We've even taken this trail mix beyond a snack and crafted it into a whole new recipe of Freezer Fruit Tarts! But let's be real - it's all about the cherries. As a Michigan-based company, we're proud to have Michigan-grown cherries as the key ingredient in this mix. Fun facts: Michigan has over 35,000 acres of tart cherry trees and grows almost 75% of the tart cherries produced in the United States. The Great Lakes State has almost 4 million cherry trees, producing about 150-200 pounds of tart cherries on each tree.  In an average year, 165 million pounds will be produced in Michigan alone. We may be bias in our love of Michigan cherries but who can blame us? Don't believe us? Check out these reviews by Costco shoppers: 
⭐

⭐⭐⭐⭐ 
"Love this product! We were at Costco in Springfield, Mo. and absolutely love this mixture nuts, berry, and chocolate. We live in Houston, Texas, and cannot find it here so I ordered it direct." - Donna H.
⭐

⭐⭐⭐⭐ 
"Genius!!! Who ever thought of mixing dark chocolate in the already great mix of cherries, berries and nuts is a genius! A perfect blend. Buy some you won't be disappointed, buy 2 because after the first you'll be glad you have a second!!" - Michael N.
⭐

⭐⭐⭐⭐ 
"Best snack ever! We absolutely love the cherries, berries and nuts with dark chocolate! Costco - please please pleas get some more in stock!!!!" - Linda L.
⭐

⭐⭐⭐⭐ 
"Great balance! 

Just got home with our bag from Costco. My husband and I both had a handful and were very impressed with the balance of sweet, lightly salty, crunchy, and chewy." - Amanda C.
Let's Talk Ingredients
Everyone wants to know the skinny on what they consume. At Ferris, we're responsible with our sourcing methods and consciously purchase only the highest level of ingredients. We work with growers and producers in over 6 countries, regularly vetting suppliers to ensure we maintain our high standards. That's not just for this mix but the entirety of our product catalog. Here's the scoop on what specifically is in the bag:
Dried Cranberries (Cranberries, Sugar, Sunflower Oil), Bittersweet Chocolate Chunks (Chocolate Liquor [Processed with Alkali], Sugar, Milk Fat, Cocoa Butter, Soy Lecithin [Emulsifier], Vanillin [Artificial Flavor]), Almonds, Cashews, Pecans, Dried Cherries (Cherries, Sugar, Sunflower Oil), Peanut Oil, Salt 
Where to Buy
Yes, the Pacific Northwest is about to get all the good stuff but don't fret if you're not in that area! While Costcos throughout the Midwest have had our Cherries, Berries & Nuts with Dark Chocolate in stock, it usually flies off the shelf and doesn't last a month before being sold out (again). While it isn't in the exclusive 2lb. bag, we have a 16oz. jar available right here online! And if you're looking for something without chocolate, head over to our original mix Cherries, Berries & Nuts for a similar elevated snacking experience.