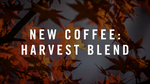 As the weather cools and we move towards sweaters, cider, and pumpkin-flavored everything, we set out to create a coffee blend that is both approachable in flavor and highlight the best that this season has to offer.
Our choice to move toward rotating coffees in and out of the lineup and using the freshest beans available from around the globe has given us a unique opportunity to create blends that reflect the changing seasons. 
"When we decided to fill out the seasonal blend line-up, the need for Harvest Blend became apparent. Bridge Street Revival was the OG seasonal rotating blend, as the components of it would change based on what was fresh at the time. There wasn't, however, a lot of visibility to the fact that the blend components would change, so that's where the idea of a seasonal rotating blend where the name changed came from," Sam Mirto, VP of Coffee Operations, explained.
Harvest Blend utilizes fresh specialty beans from Honduras and Colombia not used in any other blend we offer. "For all of the seasonal blends, when conceptualizing what flavors we want to try to achieve, we have to start with what coffees are fresh and available during the specific season," Mirto said. "For Harvest Blend, we wanted to try to achieve the nostalgic, Michigan-specific fall flavors of Cider, Caramel Apple, and Baking Spices.  So, we knew we needed specific malic acidity from one coffee, and deep sweetness from another." With a 50/50 formula, you can expect this cup to be packed with comforting flavors of caramel, cider, baking spices and nuts! Perfect to start your chilly day with or to snuggle up on the couch with as you burrow away from the cold weather. 
Honduras
We're excited to have purchased from the Youth Committee of the Unión de Organizaciones Ocotepecanas de Café (UNIOCAFE) who are participating in the Coffee Kids Program. UNIOCAFE is a producer association in the Ocotepeque region of Western Honduras, and its umbrella organization supports 28 producer groups, representing more than 1,000 coffee farmers. 
Since 2007, UNIOCAFE has invested in its producer network by providing training, financing and access to coffee buyers. In 2016, UNIOCAFE expanded its programs to focus on empowering youth, promoting gender equity and addressing climate change — and were identified as an ideal group for the Coffee Kids program to team with. Currently, UNIOCAFE provides young producers with best-practices training in coffee cultivation, cupping and coffee quality, as well as processing and preparation for export. At the same time, the youth are learning how to develop strong organizational and business skills. 
Photo Courtesy of Inter America Coffee
The Coffee Kids Program
Coffee Kids is a program of the coffee nonprofit foundation Hanns R. Neumann Stiftung (HRNS), which has been working with farmer associations in the Trifino region of Central America—the shared border of Honduras, Guatemala and El Salvador. Its goal is to awaken the entrepreneurial spirit in young farmers, to encourage them to believe in themselves and to help ensure better livelihoods for them and their families.
Through Rural Business Workshops, Coffee Kids provides not only agronomy and quality-control training, but also business mentoring and access to financing. Globally (in Trifinio, Colombia and Tanzania), Coffee Kids now includes more than 250 young people and strongly believes that if the creativity, innovation and passion of young people is supported, they'll have the capacity to adapt to the challenges ahead.
Pedro Armando Pineda, age twenty, joined the Coffee Kids Business Workshop in 2016. With the training he received and the funding he was awarded, Pedro started a small agricultural business to supplement his coffee farming. "I started my business just about five months ago with my brother. I sell mostly coffee related products like fertilizer, fungicides, seeds, and pruning tools," Pedro explained. "Sales have increased little by little as more and more people hear about my business and develop trust in my products. It helps that I am the only business in my small community." Because of The Coffee Kids Program and community of supporters, Pedro has been empowered to continue coffee farming in his community and make a steady, year-round income.
"I just want to express my gratitude for the program. It helped me immensely. I would love to someday have my very own chain of stores."
Photo Courtesy of Inter America Coffee
Colombia
This coffee hails from the hills of Finca El Progreso, owned and operated by Rodrigo Sanchez Valencia and Claudia Samboni. They grow Geisha, Bourbon, and Caturra trees between 1580-1700 meters above sea level. The property has been a coffee farm for 80 years, starting with eight hectares planted with coffee and growing to its current 22 hectares. The property is special because it is where the Sanchez Valencia family was born and raised.
Photo Courtesy of Ally Coffee
"I've lived at Finca El Progreso with my father and mother, who are both coffee producers, and my five older brothers," Rodrigo says. "My childhood was spent at the farm, and from the hands of my parents I learned the love of coffee growing and processing that has been passed down for four generations."
Him and his team focus on producing both quality and quantity. By following a systematic plan for fertilizations, variety selection, pest and plague control, harvesting, and processing, they and their team are able to produce both consistent quality and overall high volumes per hectare. 
"We have ten months of harvest, with two peaks June-July and October-November," R
odrigo explains.
While the farm runs successfully as a business, the land holds special meaning as family legacy. These are the connections to people and place Rodrigo and his family share when they offer their coffee.
Rodrigo & Claudia. Photo Courtesy of Ally Coffee