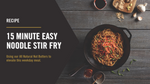 Whether you're looking to impress dinner guests or just knock out a quick weekday meal, this stir fry is just what your table needs!
Stir frying is a Chinese cooking technique in which ingredients are fried in a small amount of very hot oil while being stirred or tossed in a wok. The ingredients are common and found in most pantries- you might just have to add sesame oil and stir fry to your shopping list. It's definitely worth checking out the history of stir frying and the different techniques to elevate your cooking approach. 
Tips & Tricks
We used Peanut Butter and Peanuts in this recipe but feel free to mix it up and use Cashew Butter and crushed Cashews or Almond Butter next time for a different flavor profile.
Veggies don't take long to cook in a stir fry, especially when cut thin! 
Other veggie suggestions: green beans, bell peppers, zucchini, asparagus, snap peas, or even broccoli. The combinations are endless!
Ingredients
1 lb. linguine noodles
2 tbsp sesame oil
2 cloves garlic, minced
1 tbsp fresh ginger, grated
1/3 cup green onion, chopped
3 tbsp rice vinegar
1/4 cup soy sauce
2 tsp Sriracha
1/4 cup honey
1/2 cup Ferris Roasted Salted Peanuts, crushed (alternate: use Cashews)
Your favorite veggies: we used matchstick carrots and fresh peas!
Directions
Cook noodles according to package. Transfer to bowl once done.
Grind Ferris Peanuts (or Cashews) in food processor until crumbly, set aside.
Heat sesame oil in wok over high heat.
Add onion, garlic and ginger. Cook till fragrant, roughly 4 minutes.
Add vinegar, honey, soy sauce and Peanut Butter. Stir to combine.
Add noodles to wok, moving wok consistently, stirring ingredients until well combined. 
Garnish with additional crumbly peanuts (or cashews), chopped onion. Serve immediately. 
Shop Ingredients