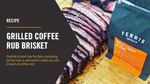 Never-mind that there may be inches of snow on the ground, you'll be digging out your grill or smoker once you read this mouthwatering brisket recipe! Cooking brisket may be time consuming but the wait is well worth it when you add a touch of coffee rub to that decadent slab of meat.
Recipe and blog written by Joe Leal, @theketogrillguy
A new year means it's time to get back on track with some healthy meals.  It also means breaking some old habits.  I have had some really good steak salads in my life but never have tried a BRISKET salad. I have also made a lot of briskets but normally stick to the basics, salt, pepper, garlic. Since I was changing up the steak salad I decided to change up the brisket with
Ferris Coffee
. I used their
West Coast Blend
and freshly ground about 1/2 cup of coffee. I added it to my
normal salt, pepper, garlic blend
and seasoned the entire 12 lb. brisket with it. 
I season briskets until they are 75-85% fully covered. They are large hunks of meat and can handle a tone of seasoning. 
Let me tell you what....GAME CHANGER! Not only did the coffee add a subtle layer of flavor it helped produce some incredible bark on the brisket. 
Pro Tip: Briskets are all about internal temp and not time. Some briskets smoke for 8 hours and some are 18 hours. Normally I smoke them around 275 degrees Farenheight in either a charcoal grill or pellet smoker. I then wrap them in butcher paper when the internal temp is about 175 degrees. I consider the brisket done at around 200 degrees internal.
I let the brisket rest for about an hour before slicing. That gives the meat time to settle and the moisture inside to be retained. For slicing, try to slice at about a pencil thickness. After slicing the brisket I added it to a bed of traditional spring mix greens and chopped carrots. I then added some of Ferris Nut Co Roasted and Salted
Blueberries, Cranberries & Nuts
to the brisket salad and it was terrific. Used a little poppyseed dressing to finish and this salad is the perfect way to kick off the new year!
Shopping for brisket: I prefer black angus brisket. Sometimes they'll need a decent amount of trimming when you bring them home. I try to remove that fat cap on the brisket down to about 1/4 of an inch. 
For more tips on grilling, cooking, or keto-lifestyle- head over to @theketogrillguy on Instagram to see what Joe's been creating! 
Shop the ingredients

: