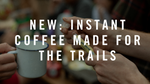 When we set out to make a coffee for all of our customers who are on the go, we wanted to keep the quality of our craft consistent.
"We've played around with formats such as single serve in the past for instance, but couldn't get the coffee to taste up to the standards we'd want our customers to experience,"Sam Mirto, Director of Coffee at Ferris explained. In fact, instant coffee isn't anything new. Soluble coffee was patented in 1881 in France by Alphonse Allais. History even traces a concentrated coffee/milk/sugar mixture used during the American Civil War! Developments and renditions evolved over time, which brings us to today and our version. "A few years ago, instant coffee would never have been something that crossed our minds to explore, as over the years it has gained the reputation of being an inferior coffee product,"Mirto said. "With the growing demand for specialty coffee from other consumer groups, it was clear that the time was right for a product like this."
We teamed up with Sudden Coffee, a leader in delivering single-origin coffees in soluble form. Instant coffee is traditionally produced with low-grade coffee and created using a process called "spray drying." Sudden Coffee has been revitalizing instant coffee with a gentler process called "freeze drying." Founded in 2015, their mission is simple: to delight coffee lovers every time and everywhere. Transforming thoughtfully sourced coffee beans from roasters like Ferris into ready-to-drink artisan instant coffee. "We tested several samples from roasters that had used their process and were really surprised by the results. The coffee had acidity, sweetness, and flavor complexity, something that was never achieved by instant coffee in the past,"Mirto, a certified Q-grader, explained.
We recognized Sudden is pioneering the field and appreciated that we could still use the beans we sourced to deliver a product our customers would recognize and love. With Sudden's help of chemical engineering and industrial engineering plus intense laboratory science paired with our expertise in coffee led us to Day Break. We meticulously calculated the specific ratio for a cup full of flavor, so all you have to do it add water. We recommend mixing with 10 fluid ounces of water, which is a similar ratio we abide by in our cafes. But we encourage you to mix it up- try 10 or 12 ounces, mix with milk or milk alternatives, too!"You could say that this product was ultimately created for the coffee enthusiasts at Ferris to indulge their need for specialty coffee while travelling, but the appeal of the product outside our team is impossible to deny," observed Mirto. Day Break is a blend of Central and South American coffees; chocolaty, sweet, with just a hint of citrus, a great everyday go-to coffee.    
To bring it all home, we partnered with Woosah Outfitters, located right here in Grand Rapids, Michigan. It was a no-brainer when you look into the overall essence of why Erica Lang created her brand in the first place. The term "woosah" is slang meant to bring inner peace and calmness when said aloud. For Lang, that inner peace is found in two ways; woodcarving and being in the beauty of the outdoors. The artwork clearly embodies a life outdoors and the happiness found there, and we believe Day Break coffee is the perfect blend to add to those special moments we all seek. Lang brought the coffee to visual life through her artistic skills and interpretation.
It's simple; whether you are on the go jet-setting or heading out into the wilderness, you are now never out of reach of good coffee. We've made it even easier for you with just three simple steps:
Empty tube into cup.
Mix with 10-12 oz. of hot or cold water. You can even mix with milk or milk substitutes!
Stir it up & drink it up. 
That's right. It's that easy. Now you can focus on the trail ahead and we'll fuel your adventure. 
DAYBREAK: AVAILABLE FRIDAY MARCH 27th