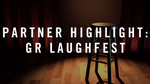 For ten years, LaughFest has been giving Grand Rapids something to look forward to in the early Spring days. Gilda's LaughFest, the nation's first-ever community-wide festival of laughter, has quickly earned a reputation for being one of the nation's marquee events for both participants and artists.
This major 10- day Midwest festival is based in Grand Rapids and includes events throughout West Michigan. Created by Gilda's Club Grand Rapids and launched in March 2011 to celebrate laughter for the health of it, the festival features stand-up, improv, showcases and a variety of seriously funny stuff.
They are serious about their "funny," bringing guests like Jim Gaffigan, Wayne Brady, Hannibal Buress, David Cross, Marc Maron, Joel McHale, Amy Schumer, and the ever-gracious Betty White. LaughFest brings together a diverse audience of children and adults every March to honor laughter as an essential part of emotional health and wellbeing. And what better time for a laughter festival than when it's typically cold, icy, and distinctly un-funny outside?
This year, Ferris Coffee & Nut Co. is a proud sponsor to help support the comedy celebration. On March 6th, we held a Crowd the Café event where customers could purchase a Smile to receive 10% off their order. Smiles are available to purchase for the length of the festival at all Ferris locations.
Our limited Signature Drink "The Golden Latte" is only around for a short time! Embrace the festival and drink something special when you stop in next. We'll keep you fueled up so you can keep on smiling!