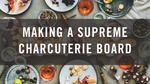 A bountiful selection of hearty indulgence, charcuterie boards are a great addition to any party or gathering! The art of preparing one may seem complicated but we're going to show you exactly what you need to make an impressive spread for your guests!
Ultimately when it comes down to it, a charcuterie board is an assortment of cured meats, both hard and soft style cheeses, bread and crackers, fruits, purees, spreads, and jams. Simple, right? Listen, you may have see beautiful boards posted on blogs (wait a second...) or your favorite Food Network host giving you the inside deets on what to use but they all come down to these basic requirements: meats, cheeses, and fixings! And we know you can handle that! So let's break down what you need to add to your shopping list so you can get to building your own board!
Your Building Blocks
Platter
Your charcuterie board will no doubt be the centerpiece at your party, which is why the platter is key. You literally build everything onto the platter, so choose wisely! Large, flat ceramic plates or a quality cutting board will do the trick but we encourage you to get creative! Remember: there are no rules! Shop your local antique store for vintage dishes, grab a slate slab, use a lazy-susan or even a natural piece of wood (clean-up, of course) as a touch of unique-ness!
Serving Dishes
Just like your platter, your dishes are a chance to be bold and eccentric. If you're building on an era-specific inspired theme, use ornate vintage dishes that will compliment the entire look. Another option is to embrace the natural look on a cutting board with rustic plates and bowls. Choose colorful, classy glass, shallow bowls and unique shapes! Again, there are no rules- sometimes it's best to use what you already have at home and be yourself!
Utensils
Give your guests the ability to scoop and serve with ornate utensils. The idea of a charcuterie board is that guests can easily grab single-servings of choice food but don't forget to equip them with tools, spoons, spreading knives, tongs and toothpicks!
Let's Talk Meats
When choosing meats, select some whole muscle cuts and some encased meats. Variety is king here! Whole-muscle cuts are preserved whole and sliced for serving, best served on a charcuterie board sliced extremely thinly. Tip: display your meats in a variety of ways. For example, you can lay cut meats out flat in a fanned fashion or simply fold in half to make a "shape" out of them! 
Prosciutto - probably one of the most popular meats for a charcuterie board because of its mild salty flavor profile.
Dried Coppa - made from dried pork neck, also known as "gabagool"
Salami - readily available at any deli
Pepperoni - 

a type of salami that is packed with flavor

Sausages - most delis offer a variety of sausage flavors
Chorizo - spicy and great with cheeses
Ham - a classic not to be overlooked 
Fold in the Cheese
Just kidding- there's no folding in this recipe. Let's be real though, everyone seems very particular about cheeses. Some shy away from the stinky kind, some adore it. This is your board, so choose what you like (and want leftovers of!) You can certainly be creative with some exciting imported cheese but be sure to throw in some classics that will keep the party happy. Make sure to grab soft, spreadable cheese and hard cheese to mix up the shapes and texture of your board! Choose at least three cheeses for your board:
Cheddar - a crowd favorite that everyone will be into, even Fido

Brie - 

a premium cheese, mild and creamy, great with honey
Gruyère - firm, mild, sweet, and a touch of salty

Fresh Mozzarella - make sure this one is fresh, it will make all the difference

Manchego - pairs well with fresh fruits

Parmigiano-Reggiano - hard Italian cheese similar to Parmesan

Pepperjack - this will compliment the spicy selection you have
Gouda - Smoked or not, gouda is goooooooood-uh
Cream Cheese - add a dollop of spicy jelly on top!
It's Time to Go Nuts
Alright we don't mean to brag, but this is where we're experts. We've been roasting nuts and making irresistible mixes for some time now (cough 97 years cough) so we're confident we can help in this area. You've got a few different routes you can go here, so let's break it down.
Raw Nuts
Using raw nuts is a great way to add a pallet cleanser to the board. They act as a kind of a relief from the all the intense flavors of meats and cheeses. You can also roast your own nuts at home! Roasting at home is easy and will fill your home with a delicious, enticing smell! We recommend grabbing a few raw nuts such as:
Roasted Salted Nuts
Raw nuts are great but charcuterie boards are about indulgence! And as always, adding salt is the right choice (...sometimes. We are not doctors nor nutritionists) So while getting raw nuts can be fun, especially if you plan to roast your own nuts at home, you can skip that step and let Ferris handle the roasting and salting!
The Fixings: Fruits, Jams, and Extras
Now this is the fun part for us. We admit, we're a bit biased in this section because at Ferris, we'll have some great additions to elevate this board to the next level. We have everything from nuts to dried fruits, and even chocolates that will add a touch of sweetness to a flavor-filled board. 
Fruits: Dried and Fresh
This is another opportunity to add a splash of color to your board. Using fresh fruit is great and will be super juicy but sometimes in the winter months, it's hard to come by really fresh, flavorful fruits. This is where the dried fruits come in! Dehydrated but still bringing the flavor, dried fruits are a great addition to charcuterie boards because they're simple and less messy! 
Slices Apples
Sliced Pears
Raspberries, Blueberries, or Grapes
Fresh Strawberries 
Spreadable Goodness
Fig Jam
Hot Pepper Jelly
Olive Oil (add spices like garlic, salt and pepper, and oregano)
Truffle Honey
Honey
Mustard
Hummas
Compound Butters
Extras that Add Balance
Olives
Baby Dill Pickles
Pickled Vegetables such as pickled pepperoncinis, pickled carrots, or giardiniera- a traditional Italian pickle mix of cauliflower, carrot, celery, bell pepper, and gherkin, often made with hot chiles too.
Fresh Herbs are a
Must
Fresh herbs are the cherry on top of the beautiful board you've created so far! Adding some fresh herbs will work great as filler for empty spaces but will also add a touch of freshness to your platter. Fresh herbs such as rosemary, thyme, sage, dill, and oregano will compliment your fixings and bring to life the beautiful platter you've built! 
Crackers & Breads
This is it! You've made it to the end but don't skimp out on this section. Adding a variety of different crackers and breads will give your guests the ultimate choice! These are, after all, how everyone will be scooping your spreads! We personally enjoy three or four cracker choices. Have a couple of plain options but then get fun with flavored crackers (garlic and herb anyone???) Add in some fresh baked breads (toasted or not) as a great filler! 
Start Shopping the Essentials
Add a touch of sweetness with Chocolates