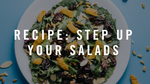 A salad a day keeps the doctor away, or so they say. Move over apples, it's time for salads to shine as one of the healthier eating habits one can adapt. 
Improve nutrition, lose weight, or changing eating habits- salads are often a go-to solution. Being mindful of what you top your leafy greens with is what will make the difference. Making smart choices will lead to healthy results. 
Salads are a great foundation to lay out your daily dose of fruits and veggies. The cool crunch and refreshing bites will leave you craving more and embracing this new all-star. Packed with good choices, salads are a good source of fiber. This will help with digestions & help you feel fuller! 
A great way to break into the salad game is to walk your local farmers market. These are great places to interact with farmers and buy fresh produce. Buying locally will ensure you're getting fresher ingredients since they don't have to travel far to get to you, unlike the larger super markets. You'll also be contributing to the local economy and supporting farmers. So eat well & feel good? Win-Win. 
We've created kits for customers and consumers alike to make it easy to enjoy salad combinations. It can be overwhelming trying to figure out what ingredients compliment each other, but here are two simple ways to upgrade.
What's in Them?
Cherry Almond Kit- dried cherries, sliced raw almonds, oat bran sesame sticks, roasted salted sunflower seeds.
Cranberry Pecan Kit- dried cranberries, roasted salted large pecan pieces, honey roasted sesame sticks, roasted salted pumpkin seeds.
Benefits
Cherries are a great source of natural fiber, potassium, copper, protein, iron, and carbohydrates. They also contain vitamin C, vitamin A, and vitamin E, all of which boost the immune system and help the body fight off illness.
Like other dried fruits, dried cranberries are known for being a good source of fiber. Each quarter-cup sized serving (40 grams) has 8 percent of the daily value for fiber, in addition to 6 percent of the recommended daily value for vitamin E.
TIPS FOR A HEALTHIER SALAD
Mix up your greens! Experiment with different leafy greens and add color and variety. There is classic romaine, watercress, kale, spinach, arugula, red leaf, collard greens, butterhead, and more!
Dress Less! Enjoy the flavor you are packing into your salad instead of masking it with a dressing. Embrace every ingredient and their complex flavors.
Add some crunch with walnuts, pecans, sesame sticks, or pumpkin seeds!