Tags:

alcohol, at home, bartender, booze, boozey, boozy, cafe, christmas, cocktails, coffee, coffee blend, coffee roaster, coffee shop, cold brew, cooking, easy, ferris, Ferris Coffee, holiday, holiday party, home, homemade, how to, ice, iced coffee, make your own, maple, milk, mixology, nitro, nitro cold brew, recipe, shake, tutorial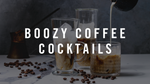 Elevate your next party with these easy, coffee-infused cocktail recipes! All of these recipes feature our specialty coffees from around the world. Choosing a light, medium, or dark roast will change flavor profiles, but trust us when we say you wont be disappointed with any of these cocktails. Get ready to impress friends and family as the new resident mixologist and coffee connoisseur! And for those looking for virgin cocktails, we got you covered with some tasty solutions! There's now a number of zero-proof choices available at stores and we've found these substitutes to be equally delicious: Bourbon or Whiskey 1....
---
Over recent years, the trend of alternative milks has risen. People are searching for new ways to enjoy the creamy, delicious ingredient due to dietary restrictions or environmental reasons. New research from Mintel reveals that non-dairy milk sales have seen steady growth over the past five years, growing an impressive 61 percent since 2012.One company dedicated to making it through these changing tides is Elmhurst 1925. A dairy company founded in 1925 by the Schwartz brothers, it was New York City's last milk manufacturing plant until it's closure in 2016. The company decided to re-brand as Elmhurst Milked and started to...
---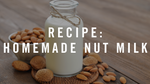 We are the perfect collision of two worlds, being a coffee & nut company, so why wouldn't we experiment with nut milks? In recent years, nut milk has become an attractive beverage, even to those who are not dairy intolerant. There are many reasons why someone would want to drink it. On top of it being healthy, vegan, and environmentally sustainable, it can also be consumed for flavor profile and body. We concoct all the coffee shop's specialty drinks through research and development. We have been experimenting with non-dairy milks for some time now and noticed that many milk alternatives in the...