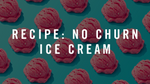 We are so excited to work with Sarah over at Broma Bakery. You may have seen her stuff on the internet as her creations have exploded onto the cooking scene. Her baked goods are packed with flavor and after trying Lush Gourmet Nuts, she's curated some amazing recipes to share. Here is her take on some delicious homemade ice cream.
By Sarah Fennel
Guys. I'm SO excited about today's post. Why? Well first, ice cream. Mascarpone ice cream. It's the creamiest, butteriest ice cream I've ever had due to the ingenious way it's made. But I'm getting ahead of myself. The other reason I'm so excited? Rose & Pink Peppercorn Almonds.
It all started last year when I was doing marketing for a group of restaurants in Michigan. One of the stores sold a ton of Made In Michigan products, and we'd often have samples in the back for the staff to try things out. One day I walked into the office and three employees were going to town on what looked like candied nuts.
"You've gotta try these!" one told me.
I bit into what was a Coconut Lavender Almond and my eyes went wide. I felt like Remi in Ratatouille when he tastes food and hallucinates shapes and colors of all sorts. The combination was on-point, and I wanted more.
Besides taking an entire bag for myself, I decided to look into these delicious nuts a little more. They were made by a company called Lush Gourmet out of Kalamazoo. It was created by a girl named Bisera who, like me, decided to follow her own path and start a company. And all at the ripe age of 21!
Bisera started Lush Gourmet back in 2011, and the company has been growing ever since. Lush Gourmet specializes in high-quality candied nuts flavored with innovative spices. Each batch is handcrafted by Bisera herself — an admiring feat. This girl was awesome. Naturally, I followed her on Instagram, got a follow back (woohoo!), and the rest was history.
Fast forward to a few months ago when we decided to do a little collaboration. I was happy to create a recipe using her products, and even more happy to tell the world of my love affair with these nuts. Like, guys I can't get enough of them. Dark Cocoa Chili Peanuts, Coconut Orange Peel Almonds… yes.
One of my favorite of the Lush Nuts are Bisera's Rose & Pink Peppercorn Almonds. Real rose petals give the nuts a wonderfully floral quality, which is offset beautifully by spicy pink peppercorns. I decided to let these nuts shine in a mascarpone ice cream. And to make things accessible to all, I made it a no churn ice cream!
That means no ice cream maker required. All you do is whip up some heavy cream, mix in the remaining ingredients, and freeze. It's almost too easy, because now I want to make ice cream all the time. And I can.
How to make no churn ice cream
If you're scratching your head at the thought of no churn ice cream, let me explain. First, you whip heavy whipping cream until soft peaks form (if you have a standing mixer, I suggest using it for this recipe). Then, fold in the mascarpone, sweetened condensed milk, vanilla extract, and salt, and continue to beat until the mixture holds stiff peaks. Stiff peaks are key here, otherwise the no churn ice cream won't be the right consistency.
Fold in the rose and peppercorn almonds, and then add the salted caramel sauce. Gradually transfer the mascarpone ice cream mixture into a loaf pan and then freeze for at least 12 hours before scooping. See? So easy!
Once this mascarpone ice cream has fully set, lift it out of the loaf pan using the parchment paper and transfer it to a sealed container. This no churn ice cream will keep in the freezer for months, as long as it's covered. Scoop this homemade ice cream into waffle cones or enjoy it straight from the freezer. Or maybe top it with more crushed almonds and some hot fudge sauce. Okay, now I'm drooling…