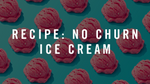 We are so excited to work with Sarah over at Broma Bakery. You may have seen her stuff on the internet as her creations have exploded onto the cooking scene. Her baked goods are packed with flavor and after trying Lush Gourmet Nuts, she's curated some amazing recipes to share. Here is her take on some delicious homemade ice cream. By Sarah Fennel Guys. I'm SO excited about today's post. Why? Well first, ice cream. Mascarpone ice cream. It's the creamiest, butteriest ice cream I've ever had due to the ingenious way it's made. But I'm getting ahead of myself. The...
---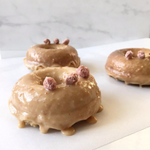 Today we're switching gears and focusing on a donut made with our peanuts, the Original to be exact. Once again I turned to Sarah from Broma Bakery for inspiration and somehow incorporated our peanuts. Recipe is as follows:  Make this recipe for the donut base. Follow it exactly and let the donuts cool. While the donuts are cooling, make the glaze with the following recipe: Glaze: 3/4 cup Original Lush Nuts peanuts + 1/4 cup for garnish 1 cup powdered sugar 2-3 tablespoons milk   Directions: 1. Put 3/4 cup of Lush Nuts in a food processor and grind to...
---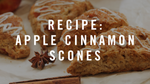 Perfect for breakfast or lunch, scones are the solution when you're craving a sweet, crumbly, delicious snack!  Nothing feels more fitting for Fall than apple inspired baked goods! And these Apple Cinnamon Scones are basically an apple pie all wrapped up into a heavenly treat! These scones pair well with a cup of the seasonal Harvest Blend coffee and we loved the extra punch of cinnamon by incorporating the Cinnamon Spice Peanuts from our Lush Gourmet line! So don't let the idea of baking scones intimidate you, you got this! Ingredients  2 cups all-purpose flour 1/3 cup granulated sugar 1 tsp. baking soda...