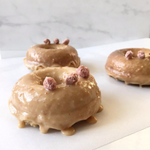 Today we're switching gears and focusing on a donut made with our peanuts, the Original to be exact. Once again I turned to Sarah from Broma Bakery for inspiration and somehow incorporated our peanuts. Recipe is as follows: 
Make this recipe for the donut base. Follow it exactly and let the donuts cool. While the donuts are cooling, make the glaze with the following recipe:
Glaze:
3/4 cup Original Lush Nuts peanuts + 1/4 cup for garnish
1 cup powdered sugar
2-3 tablespoons milk
Directions:
1. Put 3/4 cup of Lush Nuts in a food processor and grind to a paste until the consistency of peanut butter (approx. 10 minutes). Measure out 2 tablespoons and place in a bowl.
2. Add the powdered sugar and milk to the bowl and whisk until smooth. If glaze is too thin, add powdered sugar. If too thick, add a bit of milk. It should be thin enough to coat, but thick enough for good coverage.
Assembly:
1. Once the donuts are cool use a piping bag with small tip (about 1/4" opening) or a Zip-loc bag with one of the ends cut off to pipe in your favorite jam or jelly. My favorite is strawberry.
2. Pipe jelly on opposite ends of the donut towards the center at an angle. Slowly squeeze the jelly so the donut doesn't crack. Now you're ready for the glaze!
3. Dip the smooth side of the donuts (can pan side) into the glaze and allow excess to drip off. Invert the donut on a cooling rack for any excess glaze to drip off. While the glaze is still wet, decorate with Lush Nuts for added crunch.
4. Enjoy!