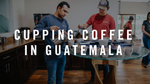 How We Choose Coffee
Earlier this year, a team from Ferris was fortunate to travel down to Guatemala to visit our partners at the San Miguel Mill located just outside of Antigua. While there, our certified Q-grader and VP of Coffee Operations, Sam Mirto, along with Education Assistant, Hannah McClure, cupped over 80 different coffees the farm had to offer. Check out the behind the scenes look at what it takes to cup that many coffees and how we choose what we decide to bring back to you! 
We have been doing business with our partners at the San Miguel Mill for over five years now. It remains one of our longest standing relationships, which is something we strive for at Ferris to continue the chain of sustainability through strong relationships. 
With 125 years of coffee farming experience, the Falla family is one of the oldest coffee farming families in Antigua. The story of San Miguel- Single Origin Coffees begins more than 50 years ago when Arturo Falla Cofiño embarked on a new adventure when he purchased the farm El Tempixque. El Tempixque is located just a short drive from Antigua, a world heritage site, in the village of San Miguel Dueñas. The farm is nestled amongst three majestic and active volcanoes, Agua, Fuego and Acatenango. The coffees from San Miguel are as unique as the location itself.
From picking to processing to hulling and sorting, San Miguel takes great pride and care to process their quality coffees perfectly every time. They pride ourselves on delivering quality coffees at scale while continuing to experiment with the latest innovative processing methods and trends to understand and best serve their clients.
It has been an important relationship with us to see their processes and facilities, which is why we are fortunate to travel to origins. Our team was able to see first-hand the positive impact the mill of San Miguel has throughout the community. Not only providing over 300 jobs to the local community, they also have an on-staff medical team to provide care and also a school for worker's children to attend and gain an education. 
Approximately 4,000 patients are cared for each year at the clinic, which was founded in 2006. Medical, dental, and pharmaceutical services are provided for the employees, suppliers and their families free of charge.
The cupping video provides a great insight to how we chose the two coffees below to bring back to our customers. Be sure to check it out and give San Miguel and San Sebastian coffees a try!