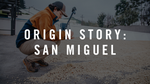 In March 2020 before the world was transformed by the COVID-19 pandemic with regulations, limited travel, and restricted borders, a few of us from Ferris were fortunate enough to travel south and visit our friends at the San Miguel mill in Guatemala, located outside of Antigua.
Written by: Sarah Eyk
We emerged from the airport into a wave of humidity and bustling city streets. Colorful camionetas (or chicken busses) packed the roads and honking taxis swerved by as we made our way through the mountains to the mill. Our host, Adrian Cabrera, is the nephew of general manager Estuardo Falla, whose family has owned and operated the land for over 125 years.
History
The history of coffee farming in Guatemala began around the 1850's. Even with ideal weather conditions and rich, volcanic soil, Guatemala's industry was slow to begin. Lacking experience and knowledge, the pioneers of coffee in Guatemala struggled to find enough workers to help them cultivate the crops.
The Falla family is known to be one of the oldest coffee farming families in Antigua. In 1890, San Sebastian was purchased by Salvador Falla Santos, who at the time was a lawyer working in the city. He traveled by horseback for over two days to his work his new 6,000 acre farm. In the beginning, when coffee was struggling in the country, San Sebastian was almost sold off to avoid financial disaster but pushing through with determination, Salvador continued and eventually was able to pass it down to his son, also named Salvador. Under new management, Salvador began investing more into coffee and the varieties and unique characteristics it can bring. Soon, a third generation of the Falla family took over, Arturo, Salvador's son (the grandson of Salvador Sr.)
Arturo Falla Cofiño  can be recognized as one who really took the Falla family's operations to the next level with his passion for farming. He began in the USA, gaining knowledge and learning as much as he could to bring back home. While he managed San Sebastian, he also purchased El Tempixque, a wild, rough landscape next door to San Sebastian nestled amongst three majestic and active volcanoes, Agua, Fuego and Acatenango. Here, he began to build his home to share with his five children, cementing their futures in the coffee industry. Before completion of the houses, Arturo passed away in 1992, leaving the farming operations to his children. After a discussion, it was decided quickly that his son, Estuardo, would continue the families efforts while his siblings pursued city lives. 
Learning from his father, Estuardo understood how much passion and dedication is needed to produce superior quality coffee every day. "I was fortunate to have worked with my father for ten years," says Estuardo.
"Coffee seduces you, it's a very dynamic business."
To find success in this dynamic business, Estuardo has made it core to San Miguel's mission to run the Falla family's operations in a sustainable way that will continue to grow the farm and improve the community. This is when the operations began to mill and process neighboring communities product. It grew into an exporting business and was able to grow beyond farming capabilities.
About ten years ago, Estuardo and his brother-in-law, Edgar Cabrera created a goal to diversify their clients. Instead of relying on one large account to purchase their product, they began a new method of direct relationships and sales to grow the business. This is where San Miguel Single Origin Coffees was birthed. 
Relationships
When we arrived at the house, we were immediately greeted by Edgar Cabrera, who mainly works cultivating relationships and sales for the operation. Like old buddies, Sam Mirto, our VP of Coffee Operations, embraces Cabrera with smiles and hugs. For over six years now, Ferris has been building the relationship here.
"I think we have a responsibility to travel [to origin] and see how it's done there. Make sure that the people we are working with are doing what they can and treating the people that they work with in an ethical manner," Mirto explained. 
At Ferris, our mission of sourcing with thought and intention drives the decisions we make. Our sourcing practices are a priority simply because we do depend on the planet's people and its resources for the success and growth of our company. "We like to see an alignment of values," stated Mirto. For these reasons, we've continued to source coffee from San Miguel year after year offering it as a single-origin and also working the product in some of our best selling blends. As Adrian Cabrera explained, they want to have a Triple Win. "We need to have triple win businesses. The producer needs to make money, the mill needs to be profitable, and the roaster needs to have a good product at a good price." This method of business may not be fast-paced or yield quick results but after years of continued efforts, Cabrera notes the relationships built have been stronger and more long-lasting.
On our trip, we were joined by friends from Brazil, Allan and Ana. The thing about the coffee industry I learned quickly was how small it truly is. Connections and shared mutual connections are quickly established and soon everyone seems like old friends. 
The Experience 
While we spent time visiting, we explored the vast field of coffee trees. From seeds to towering trees above our heads, it's almost a struggle to comprehend just how large the operation truly is. Hannah McClure, Assistant Coffee Educator at Ferris, was left impressed at the sheer scale of the farm of her first origin trip. "That was my first impression." McClure divulged. "They have a huge amount of land they are working with and processing mechanics is pretty extensive."
She was right to be impressed. Just one of their farms, El Tempixque, is roughly 7 caballeria, which translates to about 232 acres. It's hard to envision the scale until you find yourself driving for miles along the road passing neatly packed rows of trees climbing the mountain sides, seemingly as far as the eye can see. 
For myself, as a content creator, I had my camera strapped to my hand the entire time. The weight of my bag packed with gear was a heavy reminder that I was there on a mission to collect and capture the story of the farm, people, and coffee. For myself and Ana, we were able to go further into the coffee fields while the rest of the team were cupping coffees. This gave us a chance to meet with farm employees and see the cherry picking first hand. The methodic process is mastered in the hands of the Guatemalan people, who move so quickly it's hard to catch the cherries falling below into the baskets. 
Ana and I were also able to visit the on-site school that San Miguel has been operating for nearly 70 years. This was the part of the trip I was most looking forward to. We often passed the school on our way around the farm while the kids were out playing during recess, climbing on the jungle gym and running in the yard. Their contagious laughter and smiling faces were so welcoming and friendly. The teachers welcomed Ana and I into the school to see the lessons being taught, although our cameras were distracting and kids were shouting "Whiskey" (similar to how we say "Cheese") as they smiled wide for us. 
The school has been a resource available to the employees kids and also kids from the surrounding community. With nearly 7,000 kids now graduated from the school, the investment back into the children has been a positive impact. 
Cupping 
This trip was a fun visit but Mirto and McClure were also there to cup coffee. This experience gives them an insight into which coffees we select to purchase and import back to the US. The process is extensive, long, and filled with tables of coffees. Nearly 80 cups were tasted and evaluated that day. 
To get a behind the scenes look and learn about the cupping process,
check out this [VIDEO] we created!
Get your bag of 

San Sebastian

 

and

 

San Miguel, now available in our shop! 

The trip, although short, left a lasting impression on both McClure and I. As our first origin trip, it's carved a spot in our psyche of an unforgettable experience. When we travel to coffee farms, we soak in as much as we can so that when we return to Grand Rapids, we hope we can relay the same excitement and experience to our customers. Not everyone has a chance to travel abroad, to meet face-to-face with the people who farm, produce, and create the products they enjoy. So while we have the ability, we hope to pass along the information and the joys we experienced so that you can have that same feeling of excitement when you make your next cup of coffee. We hope that when you pour San Miguel coffee beans into your grinder and you can think of the children at the school it directly impacts. Or knowing that our new coffee el Vergel comes from a small farm in the region, but was brought to our attention thanks to our cupping experience on this trip. Without having access to the numerous farms, having a centered location like San Miguel for us to experience those unique coffees is invaluable. 
Interested in trying some of the coffees you just read about?
Our fresh crop of San Sebastian and San Miguel are now available in our shop!