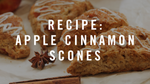 Perfect for breakfast or lunch, scones are the solution when you're craving a sweet, crumbly, delicious snack! 
Nothing feels more fitting for Fall than apple inspired baked goods! And these Apple Cinnamon Scones are basically an apple pie all wrapped up into a heavenly treat! These scones pair well with a cup of the seasonal Harvest Blend coffee and we loved the extra punch of cinnamon by incorporating the Cinnamon Spice Peanuts from our Lush Gourmet line! So don't let the idea of baking scones intimidate you, you got this!
Ingredients 
2 cups all-purpose flour

1/3 cup granulated sugar

1 tsp. baking soda

1 tbsp. baking powder

2 tsp. cinnamon

1 tsp. sea salt

1 stick unsalted butter, cut in 1/4" cubes (keep cold until ready to use for maximum flakiness)

1/2 cup heavy cream, plus 2 tbsp. for brushing

1 egg

2 small apples (your choice in variety, I used Jonagold), diced in 1/4" cubes with skin

1/3 cup Lush Gourmet Cinnamon Spice Peanuts

3 tbsp. light brown sugar for sprinkling on top
Directions
*Pre-heat oven to 400 degrees*
1. Place first 6 ingredients in a medium bowl and blend together.
2. Add butter to flour mixture and break down butter with fingers into smaller pea-sized pieced. Move quickly as to not melt the butter. This will ensure flakiness of the scone.
3. Add diced apples and Cinnamon Spice Nuts to mixture and toss to coat.
4. In a separate bowl which together heavy cream and egg.
5. Add cream/egg mixture to flour mixture and toss together until combined. It may not all come together, which is ok. Empty bowl on counter and lightly kneed into a flat disk about 1" thick. Careful not to over mix and crush the peanut.
6. Divide the disk into 6 pieces (or 8 for smaller scones) and line on parchment paper.
7. Bruch with heavy cream and sprinkle with brown sugar.
8. Bake at 400 degrees for 18-22 minutes, or until golden brown. Immediately remove from sheet tray and cool on a wire rack.
Pro tip: Top these scones with the caramel recipe we used in our Caramel Walnut Coffee Scones recipe!